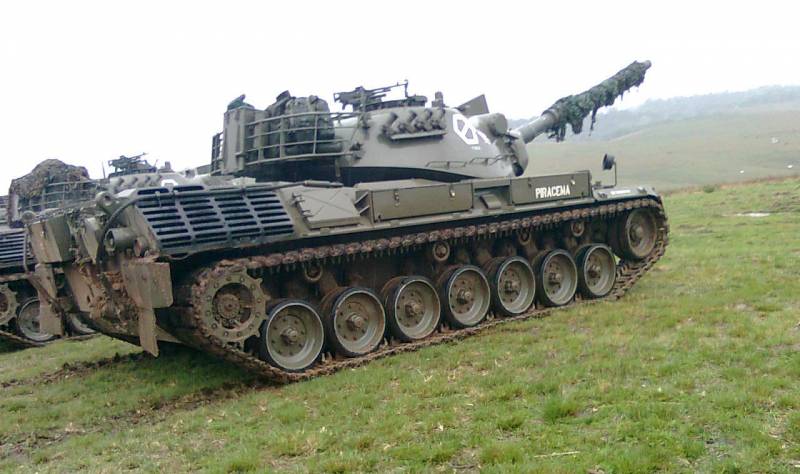 According to Jane's, the Brazilian army intends to acquire a new main battle tank and, with its help, renew the fleet of ground forces. The tactical, technical and operational requirements for the tank are published. Future contestants remain unknown.
At the moment, the program for choosing a new tank is called Viatura Blindada de Combate-Carro de Combate or VBB-CC ("Armored fighting vehicle - tank"). The army wants to get a tank with a combat weight of less than 50 tons up to 12 m long (with a cannon forward), a width of not more than 4 m and a height of up to 2,65 m (excluding machine gun installation). Crew - 4 people.
According to the requirements, the tank must have a tracked chassis with a multi-fuel engine and a semi-automatic or automatic transmission. For power supply in the parking lot, an auxiliary power unit is required.
It is necessary to reduce thermal and radar visibility. The tank should be able to install attachments for various purposes, from camouflage to engineering systems. A stern telephone is required to communicate with the infantry.
Frontal armor must withstand shells of 120-mm guns at a range of 1000 m. Mine protection is required that can withstand 10 kg of TNT under the bottom. Optional installation of hinged protection is agreed. Mandatory internal anti-fragmentation lining.
The armament of the tank should be placed in a tower with an electric or manual drive. As the main weapon they see a 105-mm smoothbore gun with a barrel length of 50 calibers. Additional armament - a coaxial machine gun of 7,62 mm caliber, a machine gun on the roof of the tower and a set of 76-mm smoke mortars.
Requires a modern digital fire control system with a set of various sensors, ballistic computer, automatic target tracking, etc. Sights should provide work day and night. OMS want to connect with communication means for receiving target designation.
Inhabited departments should have air conditioning and collective protection against weapons of mass destruction. In the engine compartment they need to put fire extinguishing automation.
The tank must develop at least 60 km / h on the highway and have a range of more than 400 km. Other parameters of mobility and patency are also set, up to the maximum allowable pressure on the ground.
In total, the tactical and technical requirements for VBB-CC include 231 items of various kinds and stipulate all aspects, combat, technical and operational, up to the need to provide full documentation in Portuguese.
After the publication of official requirements, the army is waiting for applications from manufacturers of armored
equipment
wanting to get a profitable contract. Potential participants of the competition remain unknown, their list will be determined and announced later. The deadlines for completing the tender and signing an agreement on the supply of real equipment are not specified. All necessary processes can take several years.
According to the directory "The Military Balance", the Brazilian army has quite numerous, but not too developed armored forces. Two tank brigades have less than 400 tanks. These are the German Leopard 1A1BE and 1A5BR, as well as the American M60A3 / TTS. The last deliveries took place in the 2000s, but these were obsolete machines.
The purchase of new equipment is planned, but specific requirements are imposed on it. Advanced main battle tanks from leading manufacturers do not meet Brazilian requirements. This makes the future contest interesting, and its results are difficult to predict.