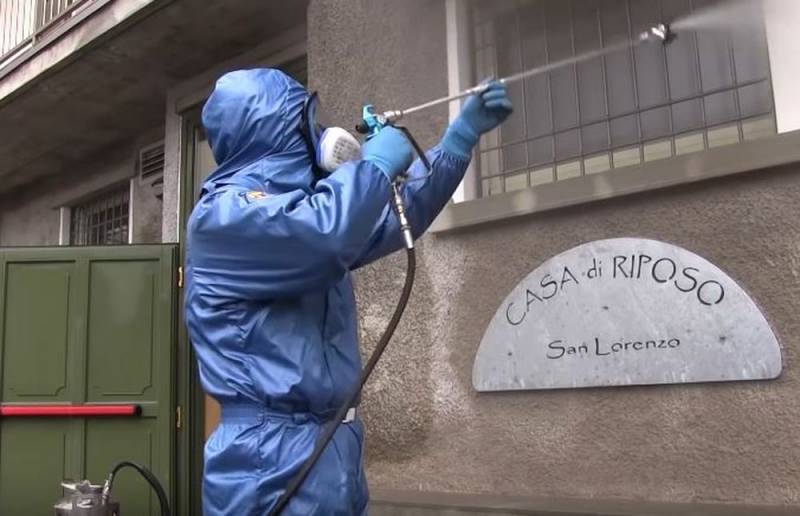 Representatives of the independent cultural association named after Leo Tolstoy from Mulazzano proposed to erect a monument to Russian military experts who arrived on the Apennines to help Italians fight COVID-19. The mentioned town is a commune, it is located in the Lombardy region (which became the epicenter of infection in Italy) and is administratively subordinated to the city of Lodi.
Reported it
RIA News"
head of the organization Marco Baratto.
In the current emergency, we want to thank the military of Russia, who are fighting an invisible and dangerous enemy, we want to thank them
- said Baratto.
Baratto believes that when the victory over COVID-19 is won, it will be important to remember those who provided it. He is confident that it is in the Lombardy region, where Russians help older people by disinfecting homes for the elderly, a monument should be erected in honor of these heroes.
Baratto specified that he is a historian by training and knows that the Russian military is not the first time helping Italians. He recalled that on December 28, 1908, a very powerful earthquake struck Sicily. Then the Russian sailors provided serious assistance to the residents of the city of Messina.
The very next day, ships of the Russian fleet, sailing in the Mediterranean Sea, arrived at the port of Messina. The sailors participated in the analysis of the rubble, saved a lot of the inhabitants of the city. In gratitude for this, a monument was erected in Messina to "Russian sailors, heroes of mercy"
- added Baratto.
Baratto emphasized that Russia provides assistance to Italy for free, without asking for anything in return. He drew attention to the fact that despite the publication in some media about the futility of assistance, "everything that is done is good."
Thank God for helping us reach out
- pointed Baratto.
Baratto noted that the association intends to donate a memorial sign to the city of Brescia, the installation site of which will be determined by its municipal authorities, and special parchment letters will be sent to the Russian Consulate General in Milan. But, in his opinion, it is better to put a real monument in the city of Bergamo, the most affected by the epidemic.