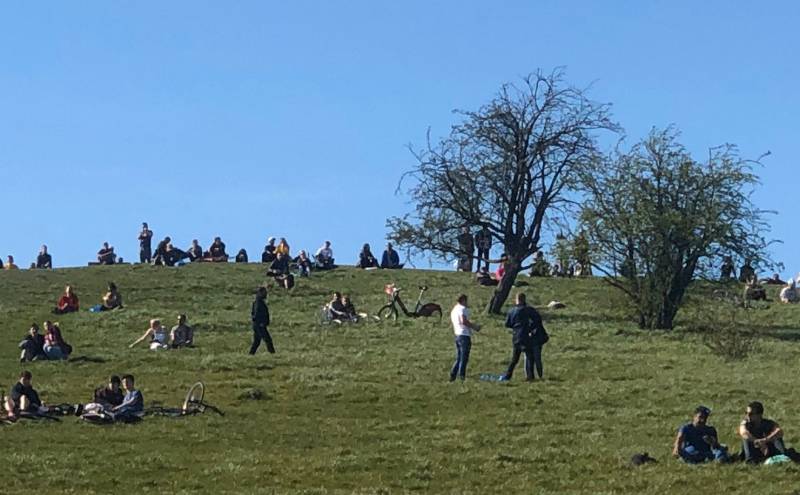 Residents of the UK were not as disciplined as some Muscovites. Despite the desperate calls by the authorities to observe quarantine in connection with the COVID-19 epidemic, they went out on picnics this weekend and went to the beaches (London police posted a photo from the scene). This was reported by the British television channel Sky News.
At the same time, British Prime Minister Boris Johnson, who picked up
infection
, continues to urge the British to comply with the rules, being in self-isolation.
Other british
policy
they also urge the residents of Misty Albionna to stay at home, despite the good weather. Social activists appeal to reason and self-preservation and ask to think about doctors who fight with coronavirus while someone has picnics and endangers others.
It should be noted that this weekend in the UK really set good weather. The sky is clear, air temperature is 21 degrees Celsius. April 4, 2020 was the warmest day in the last six months.
At the same time, there are already 41903 patients with COVID-19 in the UK. 4313 died, and only 135 people recovered.
At the same time, Buckingham Palace announced that on April 5, 2020, Queen Elizabeth II of Great Britain will make an extraordinary appeal to the citizens of the country and the Commonwealth of Nations (53 states).
It is clarified that over the 68 years of the Queen's reign, this will be only the fourth extraordinary appeal. Her Majesty usually addresses the nation only at Christmas. The monarch's speech has already been recorded and will be broadcast on television, on the radio, as well as on social networks. Speech is connected, as you might guess, with the COVID-19 epidemic.
It should be added that on April 3, 2020, Prince Charles opened the first hospital in the UK, built specifically for the treatment of COVID-19. And he did it remotely, from his home in Scotland via video link. On March 25, 2020, the coronavirus was also discovered in the prince. He successfully underwent a course of treatment and quarantined on March 30, 2020.