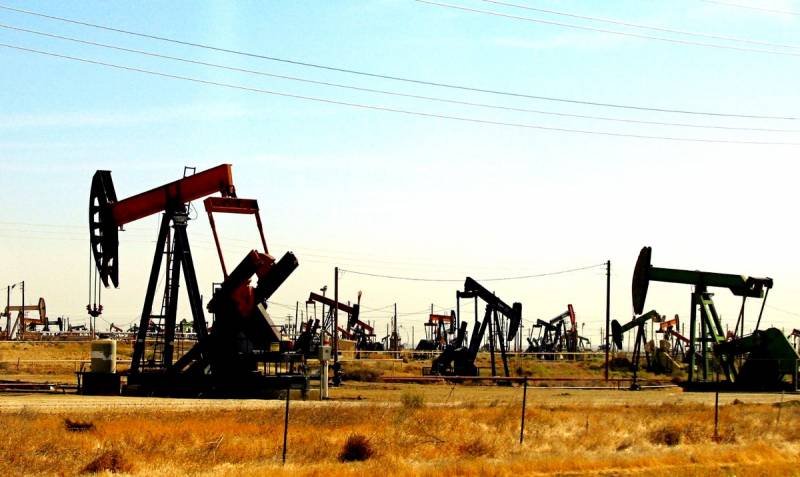 On the eve of the "Reporter" came out
publication
dedicated to the possible outcome of the "oil war" between Russia, on the one hand, and the United States and Saudi Arabia, on the other. It caused a stormy and negative reaction from some readers, since its conclusion was that our country risks becoming the main loser due to, to put it mildly, ill-considered actions of the Rosneft leadership.
Psychologists distinguish five stages of making an unpleasant diagnosis: denial, anger, bargaining, depression and acceptance. Yesterday there was denial and anger, for the more visionary - bargaining. The faster acceptance comes, the less nerve cells will be spent in vain and offensive comments will be written. Let's try to speed up this process.
Currently, it is seen how many popular media have dramatically changed their agenda. Instead of the slogan "crush them!" with respect to the Saudis and American shale, now they talk about the need for a compromise, in which the global oil market will be divided into three major players: the United States, Russia and Saudi Arabia.
But there is one problem: Washington does not intend to participate in agreements restricting its oil production. President Donald Trump bluntly stated that he expects from Moscow, Riyadh and other members of the cartel to reduce volumes from 10 to 15 million barrels per day. Informally, the formula looks like this: a third falls on the Saudis, a third - on us, a third - on everyone else.
Why are the US not going to participate in this new deal? And who will make them and how? Domestic "experts" expect that American shale oil producers are about to go bankrupt and come to confession to Putin. As the first sign, they cite the announcement of the start of the bankruptcy proceedings for Whiting Petroleum, whose debt is $ 2,2 billion. In this case, there is a clear substitution of concepts: the process of "financial restructuring" and bankruptcy are two different things. The official Whiting Petroleum press release stated:
The company has more than $ 585 million in its balance sheet, and it will continue to operate normally without interference to suppliers, partners or employees.
The risks of shale oil producers in the United States are insured for a year in advance. The fact that this industry is almost impossible to destroy, we detail
told earlier
. The process of redistributing this sector has now begun
economics
, which will lead to the departure of many small companies, which are absorbed by larger ones. In other words, by the fall of bankrupt American shale, as desired by the head of Rosneft Igor Sechin, it is simply impossible.
But our country of problems from the "oil jihad" unleashed by Saudi Arabia, ogrebla as it should. It got to the point that at some point, prices for "black gold" exported from Russia became negative. The barrel fell so much that shipping costs, taxes, and other expenses exceeded revenues. For the federal budget, which is based on the cost of $ 42 per barrel, today's $ 14,43 is a disaster.
And this is far from all our problems. Due to shortsighted
policy
Gazprom, which pumped record blue gas reserves into European underground gas storage facilities ahead of the never-held gas war with Ukraine, amid an abnormally warm winter and quarantine measures, the cost of a thousand cubic meters in the EU fell to $ 80, that is, by thirty%. Gas production in Russia over the past first quarter decreased by 30% compared with the same period in 6. At the same time, the United States increased its LNG export to the European market, moving from third to first.
Now we add to the overall picture the universal quarantine introduced in Russia, which actually paralyzed the country, breaking it into "self-isolated" regions and cities. In theory, due to the coronavirus pandemic, an emergency mode (ES) should be introduced in our country, but it has been replaced by "self-isolation" that is completely unregulated by law, which will make it possible to interpret the state's obligations to the population and business very vaguely. This also says a lot about the real possibilities of the federal budget to act effectively in the current situation.
The aforesaid in aggregate means one thing: one will have to go to an agreement until it gets worse and the situation has completely gone out of control. President Putin has already stated his principled readiness to reduce production, bargaining essentially only on conditions. About Sechin's "Wishlist" about the ruin of the American shale industry will have to forget. Now this is not about victory, but about how much it will be possible to minimize damage to the country's economy, arranged by the Rosneft leadership. If a month ago our country was required to reduce production by 0,5 million barrels per day, now this figure will increase significantly.
President Trump expects all market players to drop 10-15 million barrels. Saudi Arabia has been ramping up production by almost 3 million barrels per day for a special month. If you look at the lower border of 10 million, then it will simply cut off the excess 2,5-3 million barrels that it artificially wound up, maybe a little more, to keep within its 33%. Our country will suffer much more, since it did not have the opportunity to increase production as significantly as Riyadh did. For us, the loss of 3,3 million barrels even when oil prices rise to a "comfortable level" is a huge loss to the budget.
You can try to "bull", but then everything will end with sectoral sanctions against the entire oil and gas sector, which the country simply cannot tolerate in the current situation. Igor Sechin chose an extremely unfortunate time to "roll the barrel" in the United States. You can bargain, having beaten out some concessions, but there will be no question of the previous level of 0,5 million barrels, which was mentioned a month ago.
The situation is extremely unpleasant and harmful to the country's economy, but it happens when whole sectors are led by people who are not able to calculate the consequences of their decisions.