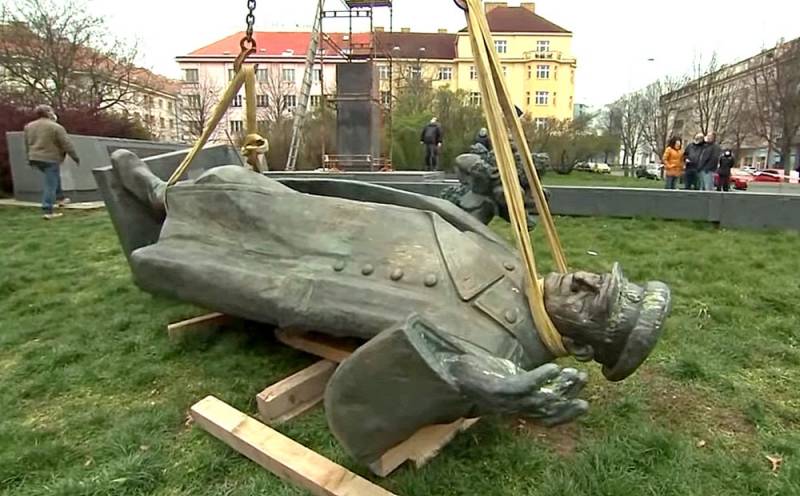 Czech
news
iDNES.cz portal published an article regarding the dismantling of a monument to the Soviet Marshal Ivan Konev in Prague on Friday. The work was carried out by order of local authorities.
The text says that the demolition was planned in September, after which a new memorial dedicated to the liberators of the city should appear at the same place.
The statue of Konev will become part of the planned municipal museum of the XX century. However, the city council has not yet decided where this museum will be located
- the article says.
The President of the Czech Republic Milos Zeman, as well as the Russian authorities, spoke out against dismantling.
At the same time, Czech commentators on the article on iDNES.cz expressed their attitude to the problem under the news.
Their opinions on dismantling are given selectively.
Agree, but they could leave some monument to the poor Russians who fell for the liberation of Europe there ...

In Poland, in recent years, more than 2000 memorials dedicated to the Soviet Army have been dismantled. The Poles did not forget the Soviet invasion in 1939, the Katyn massacre and the observation of the Vistula massacre over the commanders of the AK [Craiova Army], who bravely fought with the Nazis.

I don't understand why this question is so important for the Reds. The statue of the controversial marshal will be replaced by a memorial to the soldiers of the Red Army as a whole, who deserve gratitude for the liberation of Prague. Those countless unknown soldiers who were driven into a meat grinder. I really appreciate their sacrifices and don't know why the Red Marshal should represent them.

Let it be melted down and made a bell for the victims of communism. From the uprising in Hungary to our own, in 1968. And he will call for a long time. Because the red parasite has killed millions of people.

Given that the statue is the property of Prague-6, Zeman and the Russians may not agree, but this is the only thing they can do about it. Fortunately.

On the morning of May 11, the NKVD troops in Prague began to arrest and take away to the Gulag Czechs, Ukrainians, Russians and others, of those "who should be". There were also fugitives from Bolshevism who arrived in the country in the twenties and became citizens of Czechoslovakia. [...] The vast majority of people have never returned. Some were killed right in Prague, some died in Soviet prisons, in the GULAGs, and there is no information at all about a significant part of the abducted.

Finally, the monstrous symbol of occupation and submission to the Soviet Union will disappear.

The statue of Konev, probably, was not only for me a symbol of the communist dictatorship and Russian occupation.