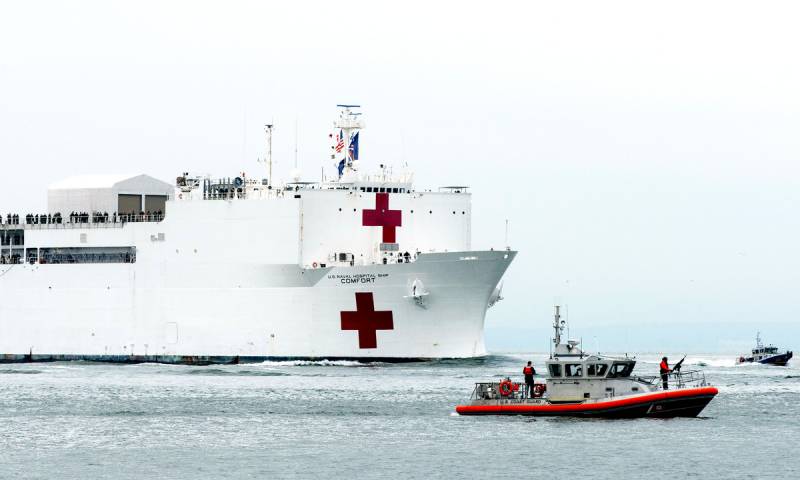 What is happening right now in New York is very reminiscent of the beginning of events from the famous novel by Stephen King, with the only exception that the real mortality from the Chinese coronavirus is completely incomparable with the once-invented writer "super influenza." However, formally, all the laws of the genre of the apocalypse are observed: the United States is in a difficult complex crisis.
That is why President Trump does not disdain to accept and pay for Russian medical care, which has caused so many discussions.
Negative forecasts of experts came true: the United States instantly turned into the main epicenter of the pandemic, more than 245 thousand infected have already been identified. To date, coronavirus has claimed the lives of more than 6 Americans. The medicine of the superpower, which used to be "not for everyone," frankly does not cope with the crisis.
In order not to be unfounded, we give the floor to President Donald Trump himself:
I used to see this only on TV, it happened in some distant countries ... Not in our country ... You see these black bags ... And you think, well this is Elmhurst, a hospital, there should be some then the equipment in these bags ... But this is not equipment. These are the people.
So far, the worst situation is in New York. One of the richest cities in the world has become a death trap for its inhabitants. 911 rescue phone is overloaded with continuous calls, hospitals are crowded. In the emergency rooms there are sneezing and coughing people, and in order to get there, it is necessary to defend huge lines. The famous Central Park was turned into a huge field hospital, on the roadstead in front of the city there is a military medical vessel, on the streets - mobile morgue refrigerators.
There are not enough doctors and nurses, the authorities are recruiting medical students and retired doctors. There are no protective masks, health workers are advised to reuse existing disposable ones. The same goes for workwear. Tests for coronavirus to patients and hospital staff are carried out only if they are in such a condition that it is necessary in intensive care. In other cases, everyone is diagnosed with a "common cold" so as not to spend scarce tests.
Health facility staff record appeals to President Trump for help. What is happening is directly characterized as "hell," worthy of a third world country than a superpower. Even the richest and most well-equipped hospitals in New York are in crisis, personal protective equipment is allocated only to those health workers who come in contact with infected coronavirus. Because of this, their colleagues working in other departments themselves unwittingly become carriers of infection.
Hospitals from the place of treatment are gradually turning into a source of infection and the spread of COVID-19: those who have been in emergency room among sick people are sent home for treatment with vitamins and aspirin. And this is only the beginning of a systemic crisis in the United States. The epidemic has not yet been taken under control, authorities expect it to spread to other major cities of the country: Los Angeles, Chicago, Detroit and so on. According to forecasts, hundreds of thousands of Americans can die from coronavirus.
A logical question arises, what next? The US presidential election is due to take place in November 2020, but will it be held?
A few months ago, the main contender for the victory was the incumbent president Donald Trump. However, if he fails to take control of the situation,
political
competitors, according to the American tradition, will appoint him a "switchman," responsible for not taking proper measures to prevent a pandemic in the United States. After that, the situation in the world can again radically change.