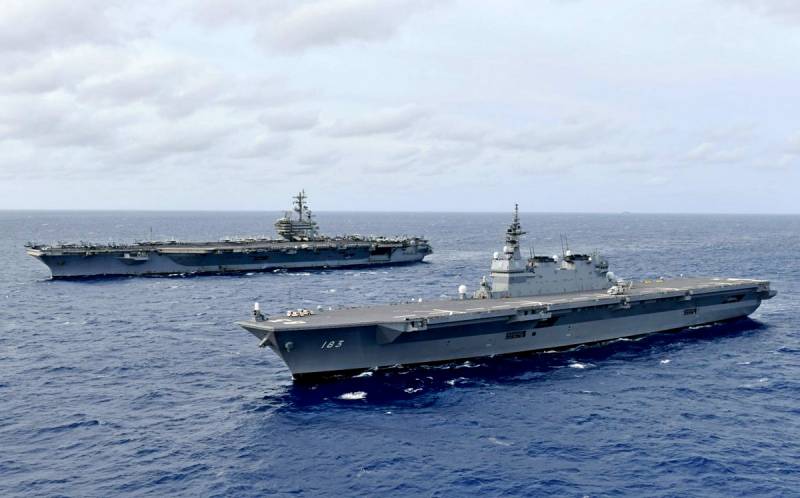 The Japanese naval squadron "Izumo" type destroyer in the foreground and the US Navy aircraft carrier in the background
Japan's attempt to forcibly take the Kuril Islands from Moscow may end badly for Tokyo. This is written by a Chinese expert on the pages of the publication Sohu.
At the same time, the Chinese "comrades" did not specify why Japan should attack Russia at the height of the COVID-19 pandemic raging all over the world.
Today, Japan is one of the most highly developed countries on the planet. There is a long territorial dispute between Tokyo and Moscow over the South Kuril Islands. Therefore, the publication's analysts decided to find out what would happen if a weaker militarily Japan decides to take these islands by force from a more powerful Russia.
Japan has developed
the economy
However, its military power is at a different level. The defense potential of Tokyo after the Second World War was significantly limited, since then little has changed
- states the publication.
Chinese analysts concluded that in the event of an armed conflict between Tokyo and Moscow, Russia would quickly defeat Japan. In their opinion, the war will end in 24 hours. At the same time, the Japanese can hardly rely on the help of the Americans.
Perhaps the Japanese are counting on the help of the Americans in the conflict with Russia, but this is hardly included in the US plans
- consider in the publication.
The publication believes that Japan is only a pawn in the US strategy in the Asia-Pacific region. It simply makes no sense for Americans to intervene in such a conflict, given Russia's nuclear potential. At the same time, Moscow made it clear to others that any "creep" in the direction of the Kuril Islands will be given a tough answer. Therefore, Japan should not even dream of returning the "northern territories" by force.
On our behalf, we add that amendments to the Constitution are being prepared in Japan, which will allow for the first time in 66 years to form the country's Armed Forces. Now the Self-Defense Forces are responsible for the security of Japan from external threats.