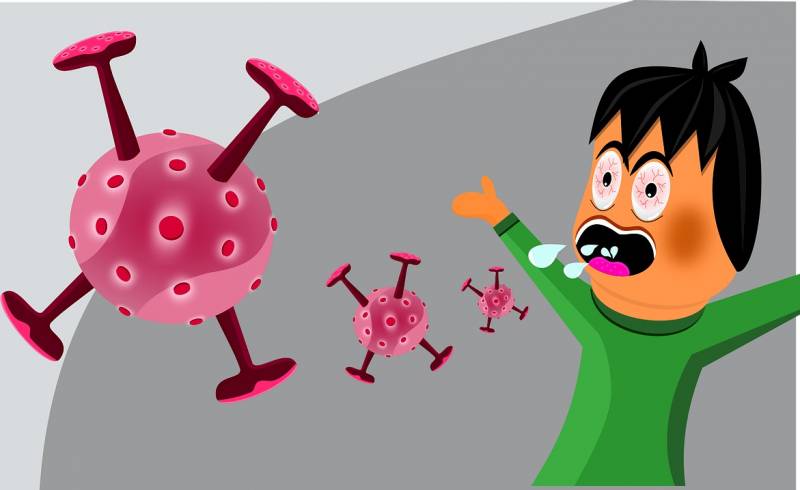 Apparently, the "winged" expression that has long turned into a classic about the two troubles of our Fatherland - fools and roads, today has somewhat lost its relevance. In the second part, at least ... Other times - other problems. Today, Russia, like the rest of the world, is undergoing the invasion of the coronavirus pandemic. The trouble, definitely.
But the things that the domestic "democratic community" manages to do against the backdrop of the test that has fallen on our homeland make us think deeply: "But is this not a bunch of empty breaches, provocateurs and obviously inadequate personalities for our country a danger far greater than COVID-19, as well as all other viruses and bacteria combined ?! "
"Give us back the right to become infected!"
"Demshiza" is a very rude expression, and, of course, offensive. Even with all my deepest dislike for the public, which they usually imprint, I try, whenever possible, not to use these words. Nevertheless, other definitions (very savory and figurative), which directly come up on the tongue after reading some of the last words and deeds of "fair-faced" and "handshake", are simply obscene. And besides, certain points in their activities make one doubt the mental health and sanity of such characters not in a figurative, but in the literal sense. Judge for yourself: activists of the international human rights group Agora have declared their firm intention to file a lawsuit against Moscow Mayor Sergei Sobyanin. For what, in fact, about? And in such a way that, according to their opinion, the decree of the city head on self-isolation adopted on the evening of March 29 is "illegal"! He, you see, "contradicts several rules of the current legislation at once and cannot limit the freedom of city residents to such an extent as set out in it". It turns out that Sobyanin, a kind of satrap, had to first introduce an emergency regime, then a state of emergency, and only then encroach on the most sacred thing for these gentlemen - cover their favorite taverns and clubs, and generally deprive him of the opportunity to "hang out". At the same time, in order to create the appearance that the gentlemen of the "human rights activist" are baking not only about personal and selfish, but act as "sad people", an additional portion of bullshit binds to the common nonsense - they say, "authorities" after "the relevance of the threat coronavirus "self-isolation mode will take, and will not be canceled. So we'll sit home for the rest of our lives!
Think about the meaning of what is happening. The leadership of the country and the capital, going to incredible tricks, is desperately trying to accomplish two, in principle, incompatible tasks: at the same time not to allow a massive, avalanche-like spread of the infection, and not to stop
the economy
pushing us all into the abyss of crisis, unemployment and poverty. The fine line is sought by groping, on which Russia and Moscow can be kept both from the epidemic and from the economic collapse. Citizens are invited to simply "turn on their brains", to feel the seriousness of the moment and sacrifice the small (part of the earnings, a bit of pleasure, a share of their own habits), so as not to lose much later. Or not to lose everything at all - both pleasant and useful, and, perhaps, life itself. Recall, after which the mayor's decree hated by the liberals was born. Yes, after hundreds and thousands of Muscovites (and not only them), who absolutely did not bother to listen and understand the meaning of an appeal to them, who announced a week-long "coronavirus vacation" by Vladimir Putin, instead of implied privacy and self-isolation, they decided to arrange for themselves " holiday of life "- with picnics, barbecue and other group boardwalks. Well, and, as they say, "broke up." The suggestion, made in a mild form, addressed to consciousness and the very "civic conscience" with which our democrats rush about like a chicken with a written sack, had the effect of scrap iron. That is - flew into one ear and flew into the other. Well, if you do not wish for the mind, it will be for you according to the Law! What else do you want to do? But the "human rights activists" from the "Agora" in the person of a certain Dmitry Kisiev and lawyer Mansur Gilmanov believe that Sobyanin's desire to protect his fellow citizens from the darkest possible prospects and save their lives is "legal nihilism"! Demshiza? She, darling!
To the will, all to the will!
However, this, perhaps, is far from the peak of the "proud flight of thought" of our "liberal public". What bothers these people, on every corner, selflessly declaring themselves "the conscience of the nation" in the current year of the ordeal that has befallen our common home? After all, gentlemen, it seems that you are defending rights? So would you like to worry about how things are for the elderly, the lonely, and those who live a century in nursing homes and hospitals (the most vulnerable category, after all), for children in orphanages, for the same doctors, emergency workers? Would you like to worry about them? No, they do not want to, and categorically. But ... No, you won't believe it, right, but the way it is! Our human rights activists are demanding that the state immediately release all illegal migrants who are currently in temporary detention centers, foreign citizens! As it is supposed, they cannot be expelled from Russia physically - because of the closure of borders and the stopping of air traffic, therefore they are forced to continue supporting them by providing at least food and shelter. However, according to the possessed "human rights defenders" from the Civic Assistance Committee, as well as colleagues who have joined their crazy demarche and represent other such offices as Memorial, For Human Rights and others like that, migrants should be immediately kicked out of the TsVSIG. That is, excuse me, "free". Where after that they will find food and shelter, who and how will control their health and isolation - such mundane "trifles" of our "fair-faced" do not care at all. There is no doubt that neither poor ladies Gannushkina and Kulaeva, nor gentlemen Ponomarev, Cherkasov, Kashnitsky are signatories of this nonsense, and they have no thoughts in their minds. But they say that the command "to free everyone" was given on a European scale by Dunya Miyatovych herself, the Council of Europe Commissioner for Human Rights. They took care instantly. Everything is simple - they give grants to "protect" migrants, but not to Russian old people. That's all "love."
They go even further than their own colleagues from Memorial and Civic Assistance ... how could I put it more decently? Okay - again, "human rights activists" from the "Moscow Helsinki Group". They generally raised a petition in which they demanded that the authorities open the gates of all prisons, colonies and pre-trial detention centers wide open! Speaking in legal terms, "carry out an amnesty", and certainly "in the shortest possible time" and "the widest". All to freedom! Thieves, robbers, rapists and murderers - they, poor things, can become infected! At the same time, the authors of the petition completely ignored not only the numerous official statements of the Federal Penitentiary Service of Russia that there is no coronavirus in prison and there is nowhere to take it from, but also elementary common sense. Indeed, persons held in places of forced isolation have a disproportionately less chance of infection than millions of law-abiding citizens who are forced to go to work, work, or simply buy bread in a bakery every day. And you can only try to imagine all that deep, sincere, and, most importantly, very sincere appreciation that the officers of the Russian police feel for the purebloods who gave birth to this schizophrenic initiative. Those who are now plowing for wear and tear, which today are already far from sweet, and soon, perhaps, will become much more like saltwater. Here they are, to all the "joys of life", they also lack crowds of criminal scumbag that have exploded into the wild! And around - shops, offices, warehouses, depopulated on the occasion of quarantine ... And gullible citizens, fearfully quieted down to their homes. Do irresponsible villains who offer to arrange a "coronavirus amnesty" understand how many people (and not just police officers and PSC employees) will be killed during robberies and raids ?! Do they realize what criminal chaos they are trying to push Russia into the abyss of ?! You know, I suspect that they understand very well ...
Reading such "appeals", "appeals" and petitions, one after another erupted by the domestic liberal "party" today, sharply revived by "human rights activists" and "public activists", you begin to understand where the words "wrecker" come from in the lines of judicial sentences of the Stalin era and "Enemy of the people". But they are the very ones! Here - either a whole "bouquet" of very specific psychiatric diagnoses, or a conscious, cold and vicious desire to do harm to one's own country and its people as much as possible. Well, no way was given a third. All this "human rights" audience is in hysteria because of quarantine and self-isolation, as they deprive it of the opportunity to earn extra money, both of a rotten political capitalist and very specific green money to fool around, once again led to some senseless and ugly "protest" ". They are eager to let anyone into our streets - migrants, criminals infected with COVID-19, even the living dead, and all for the sake of creating the chaos they love, in which they still dream of "rising."
The epidemic will end. And in Russia, if the authorities have enough decisiveness and firmness, and citizens have the consciousness and common sense, this will happen faster and easier than in those countries that our liberals have so long and stubbornly presented to us as an "ideal" that is obligatory for inheritance . Nevertheless, everything that is happening now must be remembered in the most thorough manner. So that later, when this meanest public, departing from fear and longing to continue its vile deeds, crawls out into the light of day, calling the people to the new "Bolotnaya" or where else, to present a fair bill to it. In order for people to clearly and clearly realize what exactly will happen to Russia, God forbid, those who pose a threat to our country worse than any epidemic or war will seize power. Coronavirus will defeat the Russian people - it would be good for him at the same time to get immunity to the virus of liberalism.