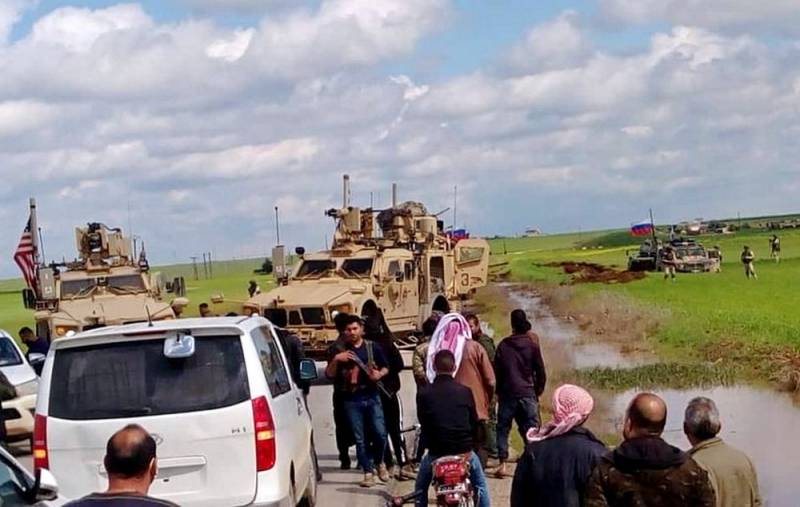 Social media users continue to discuss the "adventures" of Russian and American military patrols in Syria. Another video appeared on the web as a Russian military police patrol got stuck in Syrian mud while trying to go round the Americans.
It is specified that the armored car "Tiger" and BTR-82A overestimated their strength. To pull them out, I had to call Typhoon-K for help. At the same time, the American patrol blocked the road and does not pass the Russian convoy further.
Judging by the situation on the video, the action takes place in northeast Syria, where the Kurdish population predominates. We remind you that in February 2020, in the Syrian province of Hasaka, an American armored car already tried to push the Russian Tiger off the road.
Then the Americans didn't like that the Russians
tried
drive around them on the side of the road. At the same time, the Americans themselves specifically prevented the Russians from driving along the road, carrying out dangerous maneuvering with a trip to the oncoming lane.
Therefore, you need to wait for an official clarification from the Russian Ministry of Defense, so that it becomes clear what happened on the Syrian road between the Americans and the Russians this time. Moreover, no one invited Americans to Syria.
At the same time, local sources inform that the actions on the video take place on March 30, 2020. Allegedly, the Russian patrol, heading towards Rumailan, was stopped by the Americans, after which it was forced to turn around.