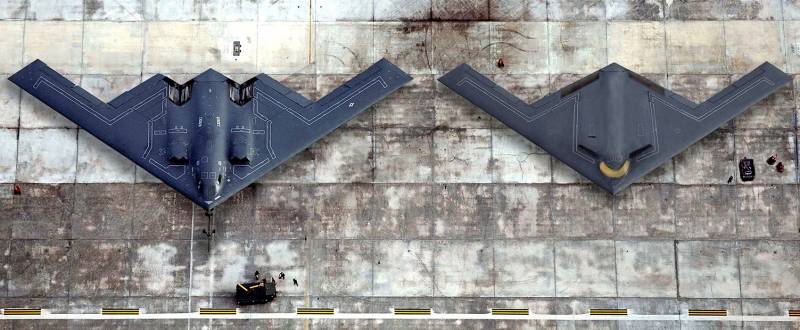 Comparison of the dimensions of the B-2 and B-21 bombers
The American media is sounding the alarm: the latest stealth bomber B-21 Raider developed by Northrop Grumman has not yet entered service, and Russia is already ready for mass production system that can destroy it.
The Military Watch publication reports with alarm that the Russian military is conducting final tests of the S-500 anti-aircraft missile system, in which the principle of separately solving the tasks of destroying ballistic and aerodynamic targets is applied.
The editors cite the words of the Director General of the Design Bureau of Special Engineering Vladimir Dolbenkov:
Also, in the interests of the air defense missile defense troops, the company's specialists created the units of the latest generation Triumfator-M mobile anti-aircraft missile system. Within the framework of this topic, tests were developed and completed for air defense systems: launcher, components of a multifunctional radar and a missile defense system, an equipped chassis for a combat control point, and transport units for a radar early warning system.
Experts of the American publication note that the S-500 is not being developed as a replacement for the S-400 and S-300 systems, which are currently the most powerful long-range air defense systems in Russia, and are designed to destroy the most important targets.
The Americans included promising spacecraft, hypersonic planes, intercontinental ballistic missiles, satellites, invisible bombers, AWACS planes, support planes and hypersonic missiles to such goals.
The authors of the material bitterly note that the S-500 will be integrated into the existing air defense system of the country and will be able to respond to those promising types of weapons that the United States does not yet have: the B-21 stealth bomber, the SR-72 hypersonic space plane and the new medium-sized hypersonic missiles range.
It is expected that this weapon will appear at the Pentagon no earlier than 2030.