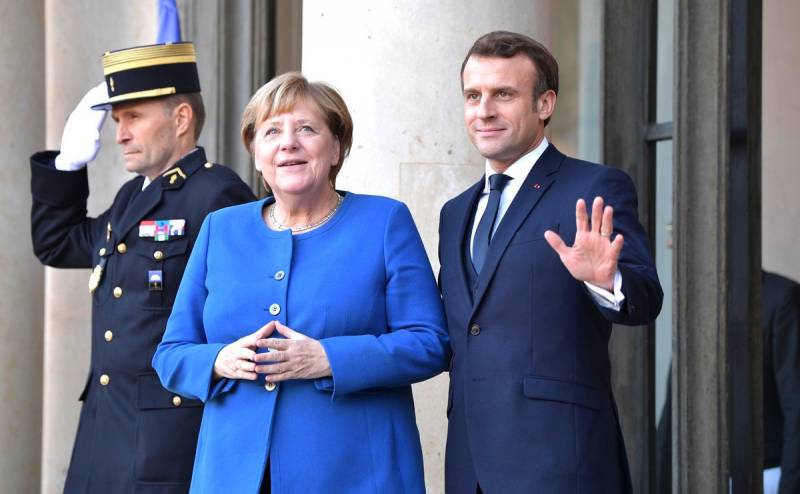 A coronavirus pandemic will change the world. Sooner or later, COVID-19 will be defeated, but the consequences of its impact will be long-term. The extreme vulnerability of the globalism system, which is effective only when all is well, is now understood. At the first serious external shock, everything instantly fell down.
The greatest questions today are raised by the future of the European "union of the well-fed and well-off."
The EU can safely be considered the most successful globalist project to date. Germany and France, the most
economic
the developed countries of this association, traditionally pushing their shoulders, trying to become its undoubted leaders. In recent years, the head of the Fifth Republic, Emmanuel Macron, has actively claimed the role of "Napoleon".
The French president is trying to breathe new life into the European Union, proposing dozens of reforms to transform it, of course, under the strict guidance of Paris, trying to cooperate equally with the United States, Russia and China. This can be greeted, but his behavior in a critical situation shows that in terms of personality he is far from Bonaparte.
Claims to Macron are expressed both in the homeland and in the neighboring EU countries, which, in theory, he should benefit on an equal footing. So, today in France over 37 thousand infected with coronavirus are registered. According to recent polls, only 26% of citizens of the Fifth Republic are positive about measures taken to combat the epidemic, 59% consider them insufficient. But in 47% they "cause fury."
This is not to say that Paris does nothing. The plans are to quadruple the number of places in hospitals for seriously ill patients. France has ordered over 1 billion medical masks in China. With a population of almost 67 million people, the country uses about 40 million masks per week.
The nuance is that the French maintain their own relative well-being at the expense of others. Neighboring Italy, with a population of just over 60 million, today suffers from the epidemic more than anyone else in the EU. So, two days ago, the death of almost a thousand people from COVID-19 was recorded per day. In such a critical situation, you need to use any help.
China and Russia are doing their utmost to help a distant European country, despite their own internal problems. Moscow's actions provoked a negative reaction at NATO headquarters and in Paris. President Macron
was outraged
and urged not to exaggerate the size of "outside help." He pointed out what Germany and France had already done for Italy:
Delivered to Italy 2 million masks and tens of thousands of bathrobes.
For a country where today over 92 thousand people are infected, this is sparse. The refusal of Berlin and Paris to provide Rome with medical masks and other equipment for combating the coronavirus caused a much greater public outcry, after which the Italians were forced to turn to Beijing and Moscow. A rather strange manifestation of "European solidarity" is obtained: die yourself, but do not let others help you out. A strong leader would gratefully accept help, and then reciprocate. Current
political
the course of Paris, to put it mildly, is not worthy of the new Napoleon.
After some time, the epidemic will end, and those who survive it will be able to look at the world around them with a new look. Is it any wonder that discussions about the collapse of the Schengen zone, and even the entire European Union, have intensified?