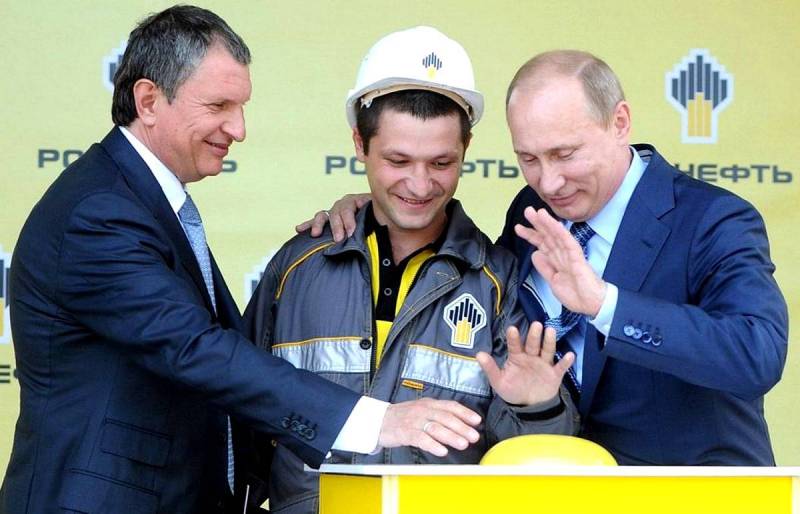 At first glance, the informational message about the "departure" of one of the leading Russian companies working in the extraction and sale of energy from Venezuela should have created an explosion of sincere joy and even glee in the United States. Well, they survived, "squeezed out" these Russians, achieved their goal by showing the world the miraculous and irresistible power of American sanctions!
However, there is no enthusiasm in the local politics, or, especially, in the expert community, something is not observed. Quite the contrary: irritation and anger reign there: "These Russian sly people again cheated us and spat in our faces!"
Background question
To begin with, we briefly recall what happened to the Venezuelan assets of our Rosneft. First of all, being determined to go all the way in their attempts to overthrow the legitimate president of Venezuela, Nicolas Maduro, in Washington they were finally convinced that it would be impossible to do this while the legitimate authority in the country has the support of Moscow. At a minimum, without direct military intervention, which the American warriors could not dare even before the worldwide coronavirus pandemic, being in a much better "form". On the other hand, in the United States they clearly understood what enormous material losses Russia would suffer if Guaido and his gang got to power in Caracas, who repeatedly stated that they did not intend to repay the debts of the "criminal regime" and recognize the prisoners as its representatives deals. The sad experience of Ukraine, where a similar situation has resulted in multibillion-dollar damage for our country, is still before the Kremlin, but in Venezuela everything is much more serious. Until the last days, Rosneft corporations owned very significant shares in leading companies in the oil and oil refining sectors - such as Petromiranda and Petrovictoria, Petromonagas, Petroperija, Boqueron, as well as some others. A considerable amount of money has been invested in them, and the Americans quite rightly believed that, being in their right mind, our company wouldn't give up all this just like that, "you live great". That is why they went the other way, it seemed to them, in a completely brilliant way - they made every effort to turn Venezuelan assets into Rosneft's toxic, not profitable, but losses.
This was done, as usual, by imposing sanctions against subsidiaries of our oil producing corporation - Rosneft Trading and TNK Trading. Rosneft itself has been under sectoral sanctions by Washington for the sixth year already, and nothing lives. In this case, announcing the introduction of restrictions against the above structures, representatives of the US Department of State very clearly emphasized: the reason is "direct work in the Venezuelan oil sector", namely, "selling bypassing American sanctions" of the local oil. At the same time, specific contracts, volumes and dates were called, which, however, was already completely unimportant. Elliot Abrams, US Special Representative for Venezuela voicing the position of the State Department, made it clear that in order to achieve the lifting of sanctions, our oil traders will not only have to "change their behavior", but also take certain "concrete and significant" steps to "maintain a democratic Venezuelan order. " Obviously, Juan Guaido will be thrown some money - not otherwise ... In Moscow, they were initially invigorated regarding the incident, saying that the restrictions would affect less than 1% of the company's profits and that Washington has chosen the most "sparing" sanctions regime in general. However, an extremely unpleasant surprise lay in wait for our oil industry workers where they were unlikely to expect this: the Chinese comrades suddenly began to refuse deals with Rosneft, who fully knew all the "charms" of American pressure. One of the leading petrochemical companies in the Celestial Empire, Sinochem Corp, expressed its reluctance to continue cooperation not only with Rosneft's "black list" daughters, but also with any enterprises associated with it. And this was already a serious blow. But "the next in line" may well be the same India, where a lot of our "black gold" is leaving and which now does not at all seek to spoil relations with the United States. It was urgent to solve something ...
"Stick your sanctions ..."
And the solution is found. Elegant, I must admit, is completely not what Washington was counting on and therefore looking in relation to its frank mockery. Rosneft got rid of Venezuelan assets - decisively, definitively and irrevocably. But ... All of them were sold in no way to Western energy corporations (although, one can argue, there were such proposals), but to "a structure 100% owned by the Russian government." That is, one company leaves Venezuela, but not our country. We must pay tribute to the Americans, as mentioned above, they understood the meaning of what happened quite correctly. So, Patricia Laya, the head of the Bloomberg agency in Caracas, believes:
This step, in fact, gives the Kremlin an opportunity for a new maneuver - after all, the assets are transferred to the ownership of a structure completely controlled by the Russian government, which is not under US sanctions.
The rational decision. It protects Rosneft, an important asset in Venezuela, as well as the opportunity to continue to help Maduro, if there is such a desire. Moreover, it can help Putin help Rosneft during a difficult market situation. However, the details of the transaction are not fully known ...
- summarizes Francisco Monaldi, an expert at the Baker Institute research center in the United States.
However, Andrew Weiss, vice president of the Carnegie Endowment for International Peace research center, overtakes all his colleagues in terms of the degree of frankness and sarcasm of their commentary:
This is an uncoded signal from the Kremlin and Sechin to the Trump administration: put your sanctions in one place!
Honestly, this is not a free interpretation of the author, but a completely verbatim quote taken from the American media ... Given that the current head of the White House did indeed personally decide to impose sanctions on Rosneft subsidiaries, which was repeatedly emphasized, then yes - very disappointing.
In order to better understand the mood of American commentators, it is worth considering that these discriminatory decisions were, among other things, one of the tools in the war on energy markets that the United States is waging against our country. It can't even be called undeclared - Trump himself and every second representative of his administration (not counting every first one) regularly declare from any rostrum their intention to rid the world of "harmful Russian energy carriers," whose supply is, of course, "leverage of political influence" . The last "pearl" from this area was, if you remember, the announcement of the intention to impose sanctions against Russia "for destabilizing the situation in the oil market". It is impossible to think of anything more absurd, but where is the State Department with the White House, and where is reason and logic ?! Now Washington is faced with a difficult choice — either to pretend that "everything is fine," while the whole world understands that it didn't happen according to his will, or try to start a trade war with the Russian state as a whole. Do you dare? I will allow myself to doubt it deeply. Recent reports from the "oil fronts" give every reason to think so. In the United States itself, everything is not just bad, but very bad. Black, sorry for the expression, "gold" has come down there to a negative price! Mercuria Energy Group Ltd, the seller of Wyoming Asphalt Sour oil, gives it to customers not for nothing, but pays 19 cents for each barrel removed from storage. It is slightly better with other varieties: Wyoming Sweet fell to $ 3 per barrel, Canadian Western Select - to $ 5,06, Oklahoma Sour - to 5,75, Southern Green Canyon - to 11,51. Plains All American Pipeline LP - one of the largest companies in the United States involved in the pipeline transportation of energy, not just asking, but pleading:
Stop drilling! Storage and pipelines are full! There's nowhere to go!
The oil industry of the United States not only came to the disastrous line of collapse, it successfully stepped over it and now flies into the abyss under a peppy hooting more and more widespread coronavirus covering the country. Everything was very unfortunate, what can I say ... Moreover, Washington's hopes for allies from the Middle East also did not materialize. Contrary to the forecasts of some analysts, Europe did not rush to buy super-cheap oil from shamelessly dumping Arabs. The reason is banal and has already been voiced above: "There is nowhere to go!" Due to the pandemic, the European Union is in terrifying economic, and in particular, transport and industrial stagnation. Moreover, Russia is again in a winning position. COVID-19 "closes" ports much more reliable than any customs. Overcrowded tankers are forced to hang out on raids, not being able to ship the delivered raw materials. But the pipelines do not represent any epidemic danger ... The most reasonable thing that Washington today can do with its anti-Russian sanctions is to really do with them not very culturally, but based on the current situation, it is quite pragmatic. Moscow gives him a great opportunity to get out of the situation with minimal "loss of face", but he clearly indicates what he expects. Rosneft, through the words of its spokesman Mikhail Leontyev, has already announced that it is looking forward to when "American regulators will fulfill publicly their promises." That is - they will announce the lifting of sanctions, at least with Rosneft Trading and TNK Trading. Will this happen? The answer to this question no longer depends on the actions of the Russian side, which has de jure fully complied with all the formalities properly, but on American sanity.
Any other actions, except for the abolition of restrictions, will look, as mentioned above, the declaration of Russia full-blown
economic
war is completely beyond all laws and regulations. Is the US ready for such a confrontation today? The question is more than debatable.