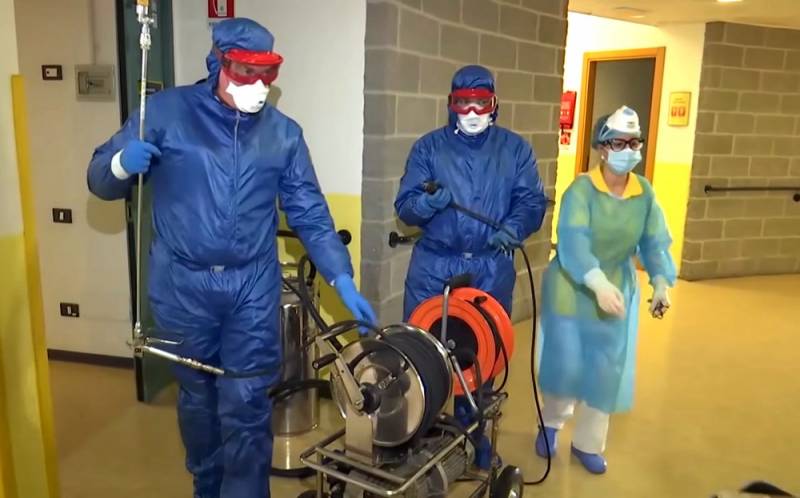 Italian
news
Tgcom24 showed footage of the work of Russian specialists (infectious disease doctors, virologists and epidemiologists) in the province of Lombardy, which is the epicenter of the spread of COVID-19 coronavirus infection in Italy. The Italian TV presenter talked about the Russian operation "From Russia with Love", accompanying the narrative with recollections of episodes from the "Bond" about "Agent 007".
He drew attention to the fact that not only medicines and equipment were delivered to Italy, but also doctors specializing in the fight against biological threats. This, according to the journalist, is much more important.
The plot says that after the arrival of 104 Russian specialists, they immediately started to work.
These are teams of super experts with equipment that has already been used in the fight against the Ebola virus.
- flattered the journalist.
It is clarified that the first day of work, the Russians disinfected 2 thousand square meters. It was shown how the Russians are disinfecting in one of the nursing homes. At the same time, they have to disinfect only 65 of these institutions in this province.
On air, the creation of a "field" hospital was shown. 32 Russian specialists from among those who arrived next to their Italian colleagues will soon be working there. The hospital will be deployed inside the city fair. The work is carried out by the association of Italian alpine shooters.
The Russians left their loved ones and relatives at home in such difficult times and arrived here with love for Italy to wage a battle against COVID-19 together with our specialists
- says the journalist.
It should be added that according to Italian epidemiologists, the Russians are carrying out a unique operation. They called essential assistance to Russia in the fight against coronavirus. We remind you that Russia sent 15 Il-76 military transport aircraft with various cargoes, related equipment and specialists to Italy to fight the coronavirus.