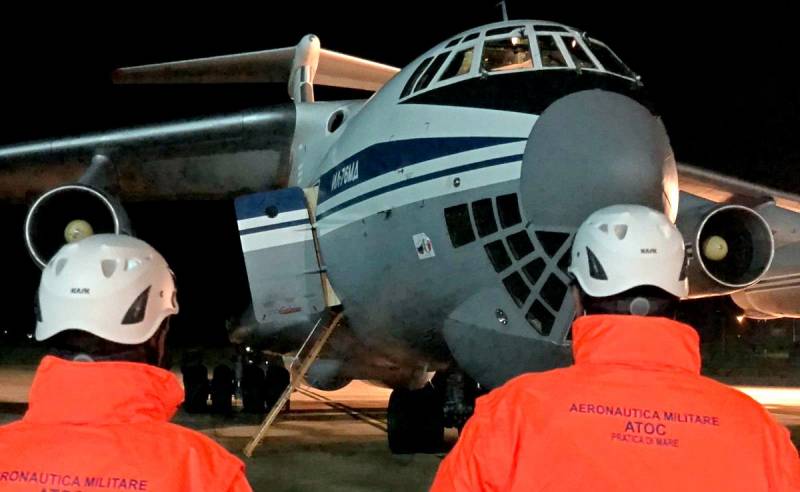 Readers of the Polish Gazeta Wyborcza commented on an article entitled "Coronavirus in Italy. Suspicious help from Russia. " It is the feedback from site visitors in this case that is more remarkable than the publication itself, which is more informational than analytical.
Comments are presented selectively.
Generals, majors, colonels ... After all, officers of these ranks will not deal with patients directly. [...] They just arrived as part of a propaganda campaign - take selfies and put them on the Internet ...

In Poland, military chaplains also have the rank of majors, colonels and generals, and no one scandals because of this.

After all, military doctors in Poland also have officer ranks. And the leaders of some hospitals are generals. Where is the problem here?

Someone correct me if I am wrong. After graduating from a military academy, you receive the first officer rank or junior lieutenant. From here to the major, these are just three ranks. Obviously, an experienced doctor with many years of practice gains a higher officer rank. The conspiracy theory is disproved.

And where is NATO with its "equipment" and "specialists" from epidemics? Hid in a hole?

The old proverb of the Red Army remains valid today: "Everywhere is good, where we are not."

[...] Humanitarian aid to Poland would not be in the way, but which country in the EU will help us? None. Or maybe the USA? But the United States will soon ask for help themselves.

I am afraid of Russians, even when they bring gifts.

When they put together all these donated masks, overalls and respirators, several AK-47s and one missile launcher will come out ...

Firstly, they don't look in the teeth for a gift horse. Secondly, will they leave as they came? Perhaps they will remain on the hospitable Italian land.

Well, now Italy will veto sanctions in compensation and withdraw from the Union. From Russia with love.

Will the Russians make an attempt similar to the one that led to the withdrawal of Crimea from under Ukraine. Of course, the capture of Italy will be more difficult, but participation in this "charity" action by military doctors indicates that the Russians are already eyeing.

The Stalinist saying "where the Russian Ivan set foot — the Soviet Union is already there" never loses its relevance. The existence of this state is a curse for the whole world.

- Reply to the previous comment.
Leaving
policies
aside, I do not understand why most commentators believe that the knowledge of military doctors who have experience with the epidemic in Africa is useless. European civilian doctors, of course, did not get such an experience, because they had never seen anything like it. Of course, Russians will demand payment, but I think it's better to get help now, and think about money later.
Well, soon Lombardy will hold a "plebiscite" for independence and demand accession to the homeland, Great Russia.