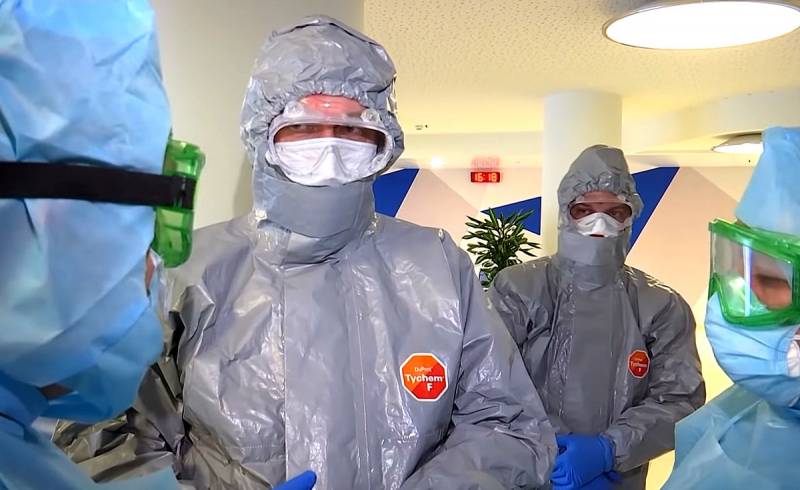 Western "partners" are seriously concerned about why Russia provided assistance to Italy when the coronavirus infection COVID-19 is rampant in the Apennines. The British journalist Isabelle Togo expressed her conclusions on this issue for the American Forbes magazine.
From Russia with love? Putin's gift in the form of medicines raises questions
- wrote the future "social anthropologist."
The article notes that Italy was really hit hard by the new coronavirus. Moreover, in the Russian edition of The Moscow Times, referring to "high-ranking Italian
political
source ", called 80% of the help of Russians" useless "and" unsuitable for Italy. " After that, they began to accuse Russian President Vladimir Putin of a "geopolitical and diplomatic" attack and an attempt to take advantage of the EU problems caused by COVID-19.
Togo clarifies that Russia provided operational assistance to Italy immediately after the country's prime minister, Giuseppe Conte, personally called Moscow and asked for it. Already on March 22, specialists, various equipment, disinfectants, masks, protective equipment and tests were brought to Italy. The journalist explained that Russian assistance, by agreement between the military departments of the two countries, was delivered by military transport aircraft to the Italian military air base near Rome.
At the same time, the journalist believes that Putin's accusations that he is trying to win the favor of the Italian authorities are not erroneous. And this is despite the fact that relations between Italy and Russia are already better than with many EU countries.
Russia needs a quick victory, so it wants to act promptly ... It does what Russia has always done, namely, it collects "low hanging fruits"
- leads Togo the words of the director of the analytical center for international affairs (based in Rome) Natalie Tocci, said in an interview with the Financial Times.
The article emphasizes that, until recently, Russia sought to downplay its concerns about the coronavirus, but Putin's latest statement showed the true state of affairs.
Meanwhile, Spain, the second largest country in Europe in terms of casualties, found that 340 COVID-000 rapid test kits sent from China were significantly inaccurate. These tests were made by Shenzhen-based Bioeasy, and microbiologists say it makes no sense to use them.
What assistance the United States or Britain provided to Italy, the journalist did not report.