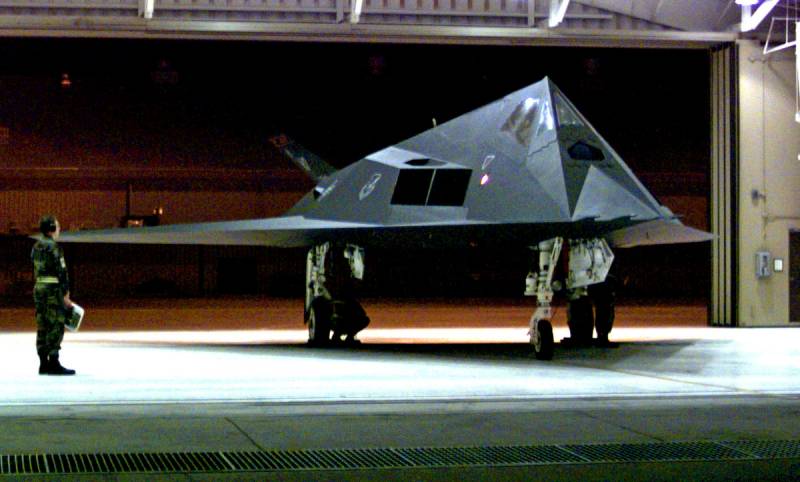 Last week, the F-117 invisible plane was once again seen in the sky over Death Valley (California, USA). These formidable combat vehicles were withdrawn from service in 2008 and mothballed.
For the first time, the world learned about the "Night Hawk" in 1988. As originally believed, the special design of the aircraft allowed it to remain invisible to enemy radars. About $ 6,5 billion was spent on its development (at the 1990 rate).
It is worth noting that the F-117 "invisibles" performed very well during Operation Desert Storm in Iraq. After which the United States often began to use the "Night Hawks" as an "argument" in diplomatic negotiations.
However, the triumph of the Americans did not last long. One of the F-1999s involved in the bombing of Yugoslavia in 117 was "downed" with the help of the Neva air defense system. It turned out that even the old Soviet radars see the "invisibility" at large distances. A monstrous blow was inflicted on the reputation of the F-117 program and the Pentagon as a whole. In 2008, the aircraft was withdrawn from service.
But why did the Americans resurrect the "invisibility" again? The answer to the question is given by photographs where the "hawk" is captured in a color that suspiciously resembles that of our Su-57. Apparently, the long-obsolete F-117 is again "called up for service" to test the detection of Russian aircraft by American pilots.
And that makes some sense. The thing is that in our Su-57 elements of the notorious "stealth" are also partially used -
Technology
. And we got access to them thanks to the Serbs, who handed over to Russia part of the wreckage of the "hawk" shot down in the sky of Yugoslavia.