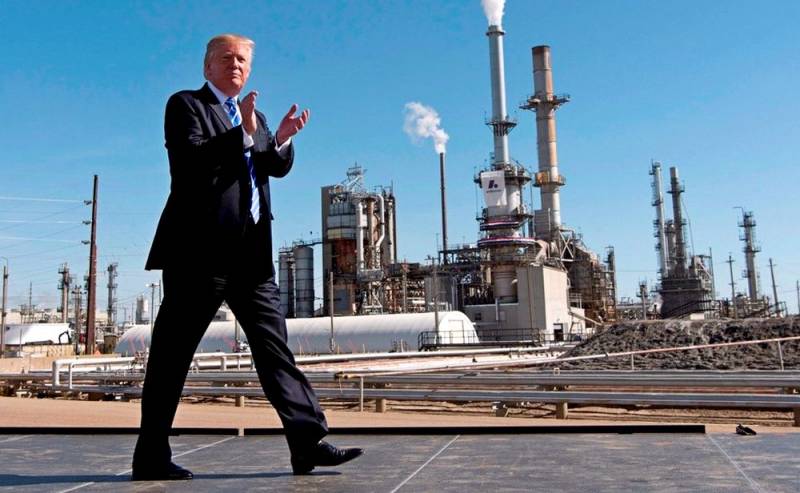 The collapse of energy prices due to the coronavirus crisis, combined with the refusal of Saudi Arabia and Russia to limit oil production, will lead to the collapse of about half of US shale companies.
In addition, according to analysts at Raymond James Inc, in the long term the situation threatens with the loss of thousands of jobs and a blow to US energy independence. It is reported by the American publication Politico.
After President Donald Trump has repeatedly declared full support for US oil companies, his current position raises more and more questions among oil workers.
Recall that on March 9, the head of the White House wrote on his Twitter page:
Gas prices are falling, which is good for the consumer.
Already, Trump's popularity has fallen quite strongly in Texas - up to 45%, according to a survey by the University of Texas.
The White House administration does not understand that the US oil industry will eventually cease to exist when the price of oil is below $ 30
Says Dan Eberhart, CEO of Canary LLC, a Denver oilfield services firm and a major Republican party donor.
According to a Politico source, Trump, in conversation with the Saudi crown prince, expressed his agreement with the kingdom's plans to produce more oil in order to try to squeeze Russia out of some markets.
What the hell does that mean? Do you understand that this leads to excessive pressure on one of the most important resources
economics
our country
- indignant one of the major lobbyists of the US oil industry, who wished to remain anonymous.
Which side are you on?
- Summed up the claims of American oil companies to Trump, the publication Politico.
According to some industry leaders, Trump either does not fully recognize the threat, or does not want or cannot eliminate it.
The editorial staff concludes that if Trump cannot curb the fall in oil prices, then for him it will end with the loss of hundreds of thousands of votes belonging to industry workers, which will make it impossible for him to win the upcoming presidential election.