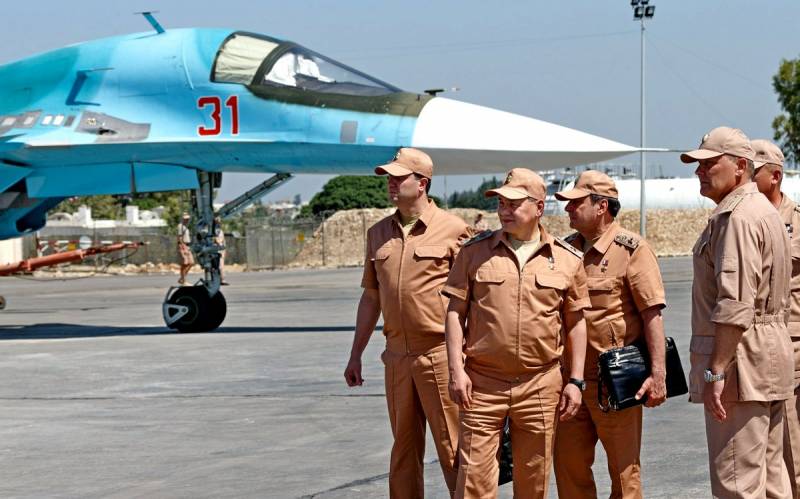 Russia is quarantined, all scheduled and charter flights are canceled. The country is leaving for a long forced weekend. However, one person is not up to rest. The head of the Ministry of Defense, despite all the bans, the day before escaped from Moscow and flew to Damascus.
Why did Sergei Shoigu need to personally accompany the head of the GRU to come to Syria in such a difficult time?
The event is truly extraordinary. It is officially stated that Sergei Shoigu will hold talks on the "economic restoration of Syria" with President Bashar Assad. A rather strange explanation, since this is not entirely in the profile of the military department of the Russian Federation. But there is a reason, and it is more serious: Moscow does not want a new aggravation in Idlib.
That we are close at hand for the next conflict in the north of the SAR, we are in detail
told earlier
. There are a number of reasons for this:
At first
, the Turks themselves are not going to leave Idlib, on the contrary, they are digging in and creating military bases to reinforce the existing military contingent that occupied the northern part of the Syrian province.
Secondly
, and Damascus is determined to drive the Turks out of Idlib, consistently pulling reinforcements to the demarcation line. The Kremlin has a great influence on the Syrian authorities, but it should not be overestimated: the last word still remains with President Bashar Assad.
Thirdly
, the shaky ceasefire achieved is constantly destabilized by "wild terrorists." They no longer attack the Syrians, but the convoys and patrols of the Turkish military. Cleaning up such uncontrolled groups is simultaneously the duty of Ankara on the agreements reached in Moscow and the issue of image for its own population.
This means that in the very near future Turkey will have to carry out a special operation to clean up its zone of responsibility from the "wild fighters". UAVs will start flying, armored vehicles and special forces will go. The question is how the Syrians will react to this, who quite reasonably can assume that the Turks, under the pretext of stripping, can only strengthen their military presence in the disputed territory.
The likelihood of excesses and a new direct clash between Ankara and Damascus is so great that Russian Defense Minister Sergei Shoigu personally gathered in Syria, taking with him the chief military intelligence officer. And all this despite the quarantine and the risk of picking up a dangerous infection that could incapacitate the top officials of the country's military department.