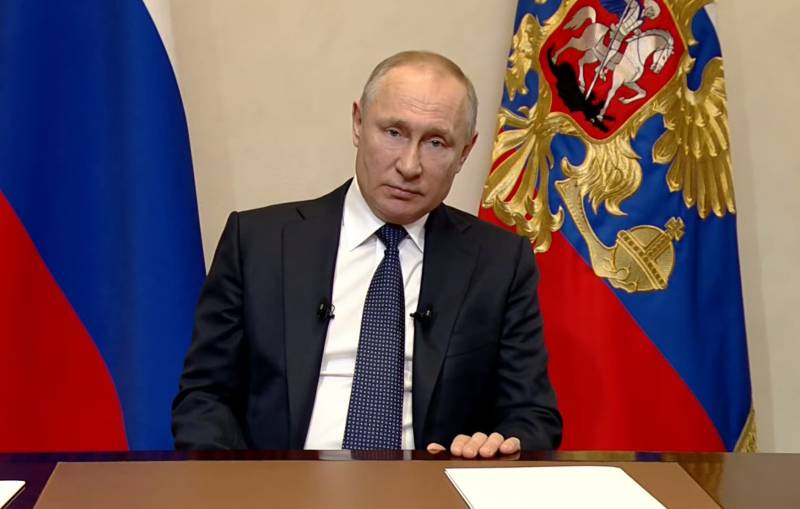 On March 25, 2020, Russian President Vladimir Putin addressed his fellow citizens. The head of state announced a number of measures to support citizens of the country and enterprises.
Putin noted that in many countries of the world the number of patients with coronavirus infection COVID-19 continues to grow and the whole
economy
the planet. Thanks to the measures taken, Russia has so far been able to restrain the spread of the disease.
But you and I must understand that Russia, simply because of its geographical location, cannot fence itself off from the rest of the world. Near our borders are states that are already seriously affected by the epidemic. And completely block its penetration into our country, objectively impossible
- Putin said.
The President proposed to work "ahead of schedule". At the same time, he called the life and health of Russians the main priority. He specified that all resources are connected to the deployment of a timely medical care and prevention system. The head of state thanked the doctors for their dedicated work. He asked fellow citizens to be very attentive to the recommendations of doctors.
Putin said voting on amendments to the Russian Constitution needs to be postponed to a later date. He announced that the week from March 30, 2020 to April 5, 2020 will be non-working with the preservation of wages, except for those enterprises that are necessary for life support. Families with the right to maternity capital will be paid an additional 5 thousand rubles a month until the child is three years old.
The President emphasized that previously announced payments, from the second half of 2020, for children from 3 to 7 years old should reach people already in this half-year. At the same time, payments to veterans of the Great Patriotic War and home front workers (75 and 50 thousand rubles, respectively) should receive money already in April 2020.
The Russian leader added that social benefits and benefits will be automatically renewed over the next six months. And small and medium-sized businesses will receive a deferment in all taxes except VAT, insurance premiums will be halved. Withdrawal of funds to offshore companies will be taxed at 15%, and deposits in foreign banks and securities worth more than 1 million rubles - at 13%. At the same time, banks will have to meet customers who find themselves in a difficult situation due to coronavirus.
Moreover, enterprises affected by the consequences of the epidemic cannot be declared bankrupt in the next six months (moratorium). Payments on sick leave of citizens now can not be less than the minimum wage. Unemployment benefits will also increase to the minimum wage.