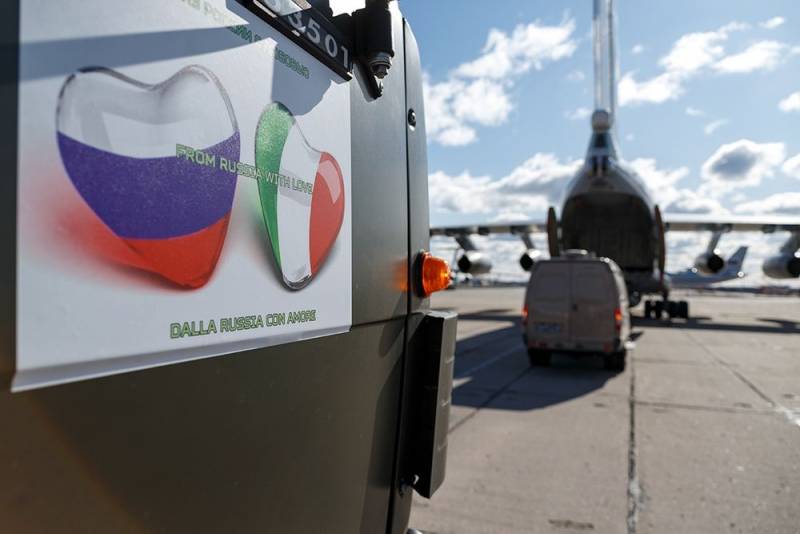 In Italy, they are very grateful to Russia for the assistance that it provides to combat the coronavirus infection COVID-19. At the same time, Italians are surprised that the Russians were able to organize everything so quickly.
This was reported in his
Telegram channel
war correspondent for the newspaper Komsomolskaya Pravda Alexander Kots. He specified that in Italy they hoped for help from Russia, but did not really expect such a prompt reaction from Moscow.
It's reported from places that the Italians were discouraged by the lightning speed of the Russians, who, in fact, transferred a huge amount of manpower and equipment from Russia in a day. Therefore, organizational issues took a little more time. They didn't wait for us so fast. Our crews met with bags of dry tea and oranges
- wrote Kotz.
Kotz added that measures have already been taken in the complex of buildings of the officer meeting of the Ground Forces of the Italian Armed Forces for the use of Russian military specialists (virologists, epidemiologists, military forces of radiation, chemical and biological protection),
equipment
and equipment. Now the Italian side is deciding in which areas the Russians will operate.
We remind you that Poland did not miss the planes of the Military Transport Aviation of the Russian Aerospace Forces, so I had to help
deliver
the longer way. At the same time, the Russian Ministry of Defense said that the Russians will enrich their experience by working in Italy, helping local specialists in the fight against coronavirus.
It should be added that on March 21, 2020, Russian President Vladimir Putin, talking on the phone with Italian Prime Minister Giuseppe Conte, confirmed Moscow's readiness to help the Italians. The next day, 8 boards of IL-76 flew from Chkalovsk near Moscow.