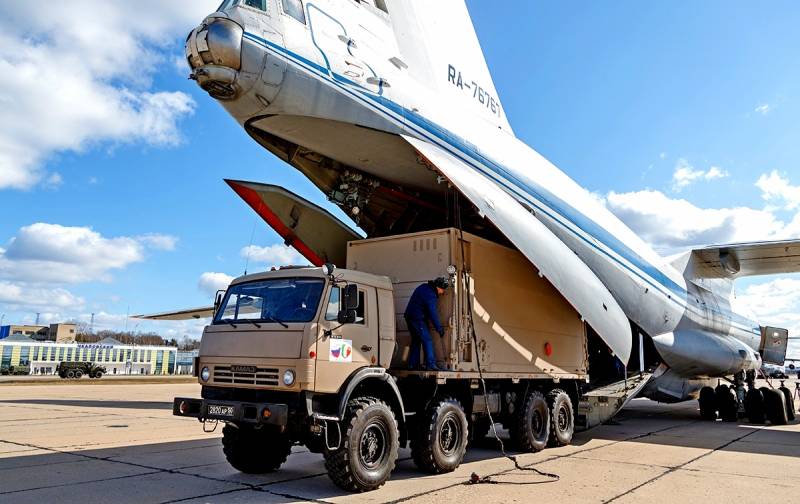 The Ministry of Defense of the Russian Federation delivered medical care to Italy. Il-76 transport planes arrived at the military airbase near Rome, bringing various
machinery
as well as virologists.
Italians are grateful to the countries that sent them help in connection with the coronavirus epidemic. However, not everyone is happy with this situation.
Below are comments from Italians on the TGCOM24 news website, under
news
about the arrival in their country of the Russian military with medical equipment. The main motive is words of gratitude to Russia, China and Cuba for the assistance rendered and not so flattering assessments to the traditional allies of Rome in Europe and America.
It's good that the Russians forgot how Italy every six months votes to extend the sanctions against Russia.
We must "thank" China for its global medical and
economic
a catastrophe that, due to nearly two months of omissions and cover-ups, has spread the virus worldwide.
American volunteers built field hospitals, with 68 beds each, with intensive care units. And China has supplied us with equipment for propaganda purposes, to make us forget about its mistakes and secretions that led to the infection of the whole world.

Help came from the Chinese, Cubans, and Russians. But isn't Italy in the European Union and NATO?

Thanks to Cuba, China, Russia and all the countries that are currently helping my destroyed Italy! It's nice to see that there is such a spirit of cooperation and mutual assistance!

I thank all these states. Friends are in trouble ... Thanks to everyone!

Our family, apparently, is not Europe ...