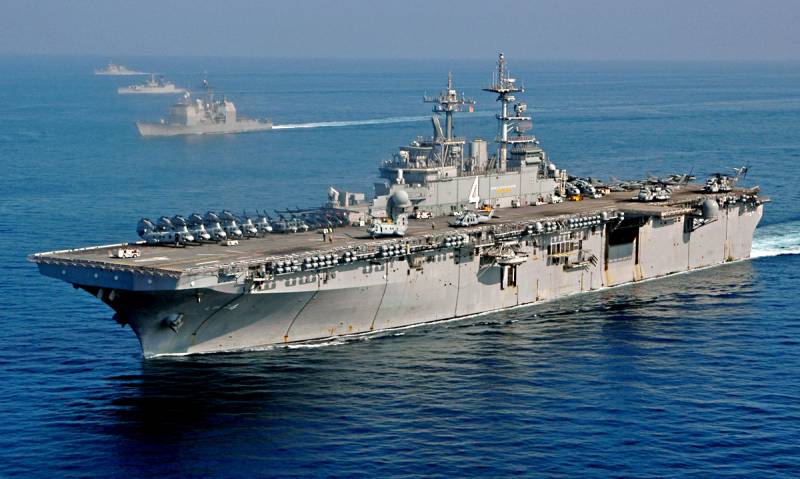 Three U.S. Navy ships have already registered four cases of 2019-nCov coronavirus infection (COVID-19). This raises concerns that the disease will spread to the "tight cabins" of the entire US Navy. This is alarmingly reported by the American website Military.com.
It is noted that the first victim of the coronavirus was the US Navy aircraft carrier landing ship LHD-4 "Boxer" (crew of 1200 people), which has been in service since 1995 (launched in 1991). There are already two confirmed cases of COVID-19 infection on this ship. The first case was recorded on March 13, 2020, and the second on March 17, 2020. Both patients are ordinary sailors.
The third infected American naval officer is assigned to the DDG-114 Ralph Johnson destroyer (crew of 340 people). This is the 30th Arly Burke class ship (handed over to the fleet in November 2017). The fourth infected person is assigned to the warship of the coastal zone LCS-4 USS Coronado (crew of 50 people).
All of the aforementioned warships are located at a base located on the west coast of the United States (Pacific Ocean). And these cases have already raised questions from the American public. For example, what does the leadership of the US Navy do to prevent the spread of the disease among the crews of a huge fleet?
At the same time, a special fleet commission already found out that the infection got on warships after a mass event with the participation of civilians, who brought the infection. In this regard, the admirals decided to limit fees of this kind.