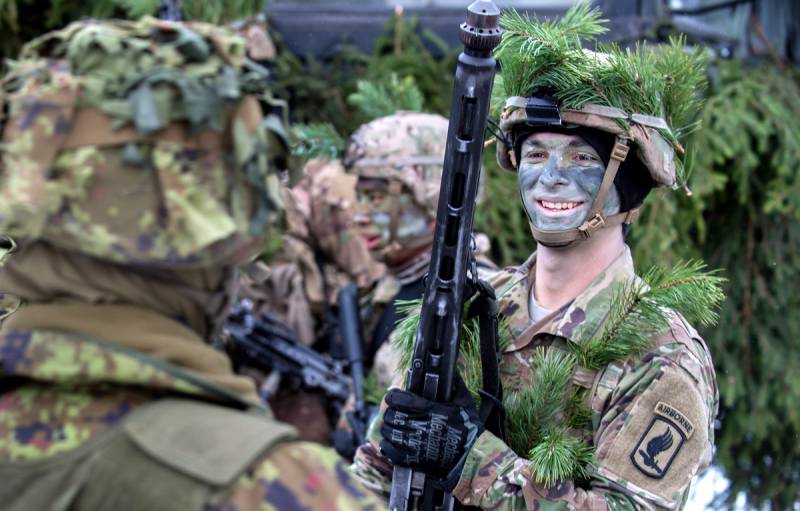 The coronavirus epidemic moved to Europe, driving the leading Western countries to universal quarantine. It dealt a big blow to
the economy
The EU, but no less important, is how this stressful situation affected the military component of the NATO bloc, which in recent years has been demonstrating ever-increasing anti-Russian activity.
Since the infected people appeared already at NATO headquarters in Brussels, the Alliance Secretary-General was forced to hold a conference with a report on achievements for the past 2019 with journalists remotely in video format.
Of the 219 thousand infected with the coronavirus COVID-2019, 9 thousand have already died worldwide. The alliance officially recognized the danger of coronavirus. Secretary General Jens Stoltenberg said:
The pandemic is testing NATO for strength, but we will defeat it. This does not affect the ability of the alliance to conduct its operations and its combat readiness.
However, the facts suggest otherwise. So, due to the risk of spreading the infection, a number of military exercises of the bloc were canceled, for example, Cold Response, which were to be held in Norway. It was planned to involve 15 thousand NATO troops in them near the Russian border. The command of the Kingdom considered that it was more important to protect the soldiers from the epidemic, thereby preserving the combat readiness of the army.
Even more COVID-2019 affected the Defender 2020 strategic exercises, which were supposed to be the largest in the past 25 years. Their initiators and protagonists themselves, the United States, refused to send their troops to Europe so that they would not bring the epidemic home. Americans stopped forwarding to Europe and their military
machinery
in the planned volumes, which, most likely, should have subsequently remained close to our borders. If Russia used to be coasted by General Frost, now Field Marshal Coronavirus stands up for us. This, of course, is black humor.
Due to universal quarantine, the movement and communication of NATO functionaries is limited. The increase in defense spending by the alliance is also in question. Against the background of the epidemic, the Secretary General expects a "short-term decline" in the income of the budgets of the NATO member countries, but, according to Jens Stoltenberg, it is still necessary to continue to pay because of the "unpredictability of the world in which we live." Gathering a price for them, Mr. Stoltenberg points out the usefulness of the military in the fight against COVID-2019, as they provide assistance with quarantine and disinfection of cities.
Despite the pandemic, NATO does not plan to curtail its "missions" in other countries. The Secretary General of the Alliance said that all military operations abroad will continue, the disease among NATO troops was not found there. In Afghanistan, the number of Western troops will be planned to be reduced from 16 to 12 thousand people.