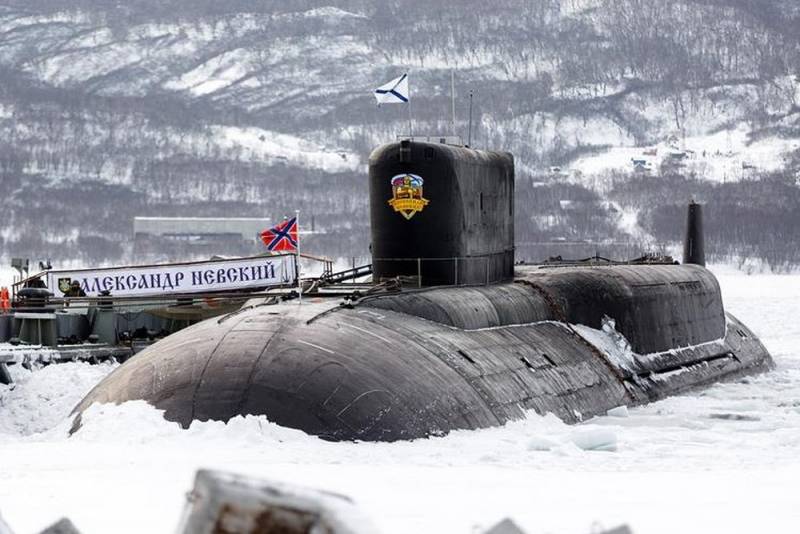 Former commander of the Russian nuclear strategic submarine (nuclear submarine) K-550 Alexander Nevsky (project 955 Borey) 1st-Class Captain Vasily Tankid told why the US military could not find the Russian submarine during the inter-naval transition. We are talking about the events of 2015, when the submarine moved from the Arctic Ocean to the Pacific Ocean.
It should be clarified that the St. Andrew flag was hoisted on the nuclear submarine on December 23, 2013, after which it was assigned to the 25th submarine division of the Pacific Fleet (TF) of the Russian Navy, based in Vilyuchinsk. On September 30, 2015, the nuclear submarine arrived in Vilyuchinsk (Kamchatka Territory), completing an inter-naval transition under the command of Tankovid with a length of 4,5 nautical miles from Gadzhievo (Murmansk Region). In November 2016, the nuclear submarine successfully completed the first autonomous combat service at the TF and returned to the permanent base Vilyuchinsk. By the way, the Americans call Vilyuchinsk "a hornet's nest."
In his interview
TASS
, on the occasion of the Day of the Submariner, Tankovid noted that the Americans found out about this campaign after it ended and the nuclear submarine arrived in Vilyuchinsk. According to Tankovid, this result was achieved due to low noise and special maneuvering.
As for secrecy, we block not only our ships, but also foreign ones. US "resting" in comparison with our low noise
- said Tankovid.
As a result of attracting the forces of the fleet, the correct use of the capabilities of the cruiser and special maneuvering, the States failed to detect, and even more so, follow us in the process of transition. The Americans woke up after we docked at the pier, that is, they generally lost us
- said Tankovid.
Tankovid explained that because of the available characteristics, including the weak footprint left in the water, the Russian nuclear submarine is difficult to detect. He clarified that the transition lasted 42 days, of which 12 days the submarine was in the water position.
Therefore, even crossing the Bering Strait, where the US coast is visible with the naked eye, we remained undetected and passed the American continent quietly and calmly
- concluded Tankid.
It should be added that the "Alexander Nevsky" can carry up to 16 R-30 (SS-NX-30) Bulava solid-fuel ballistic missile submarines (SLBMs) ​​(in service since June 2018).