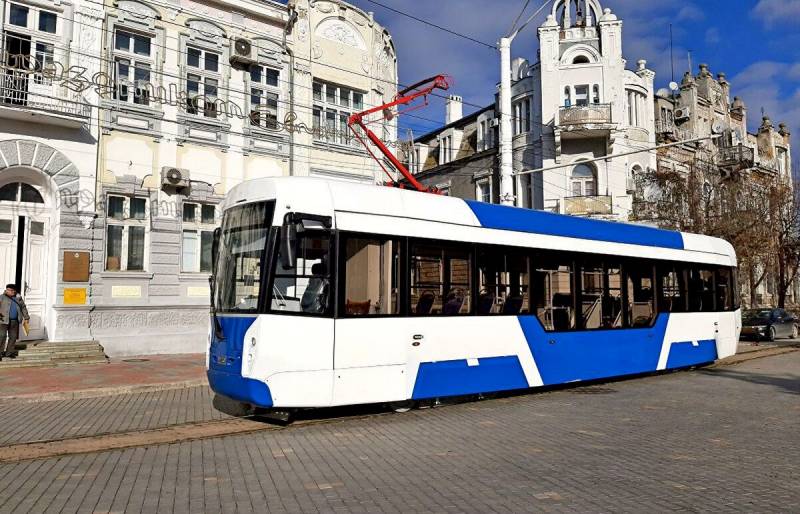 Uraltransmash on the eve introduced a new tram, fully adapted for use in cities with a narrow gauge of 1000 mm. The presentation was held in Yevpatoriya (Crimea), where the car was delivered last year for passing acceptance tests, as well as receiving an act of the interagency commission and a certificate of compliance.
Model 71-411 is capable of speeds up to 70 km / h. At the same time, acceleration to 40 km / h occurs in just 10 seconds. The length of the car is 14,7 m, width - 2,2 m, base - 1,9 m. The tram is designed for 179 passengers and is most adapted to ensure the barrier-free movement of sedentary categories of citizens, as well as passengers with baby strollers.
One of the main features of the novelty has become a number of design solutions that allow the car to move along uneven paths, while leveling the vibration and ensuring a smooth and quiet ride. In addition, the 71-411 received an energy efficiency system that reduces energy consumption by 40% compared to its predecessors.
It will become more comfortable for the drivers. The tram was equipped with a modern control panel that fully meets ergonomic and anatomical requirements.
The new tram model has already received all the necessary documents and has successfully passed acceptance tests, which allows it to be launched in series. According to the manufacturer, the carriage is equipped with a serious digital filling, and its final configuration will be fully customer-oriented.