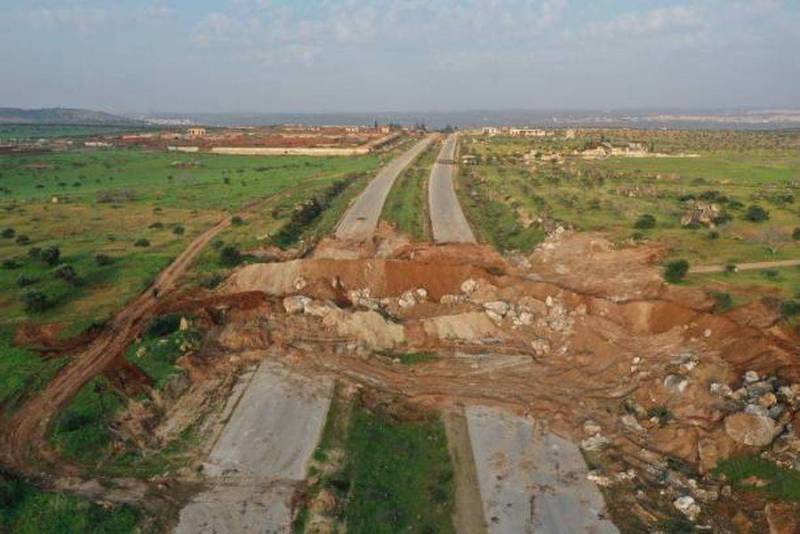 The militants dug a huge moat in the middle of the M4 highway connecting Latakia with Aleppo. This was done in order to prevent the Russian-Turkish patrol of the highway. Earlier
сообщалось
that "jihadists", "moderate" terrorists and other "Syrian refugees" gathered from all over the world are feverishly trying to disrupt the joint patrolling of the M4 highway by the Russian and Turkish military in the Idlib de-escalation zone.
March 17, 2020 in one of the Twitter accounts were published photos of the area. Web users have already reacted to what is happening.
Wow! These "freedom fighters" will have a lot of work in Germany! There are a lot of roads!
- commented on Kap WI de Lemn, alluding to the "Syrian refugees."
In addition, Yevgeny Poddubny, the head of the VGTRK bureau in the Middle East and North Africa, now in Syria, posted a video on his YouTube channel in which he told and showed what the militants are doing in the Idlib de-escalation zone. They sing Russophobic "ditties" and scatter metal spikes on the road that impede the passage of wheeled vehicles.
At the same time, he drew attention to the "helplessness" of the Turkish military, who did not respond at all to the activities of the militants. According to Poddubny, the militants are under the "Turkish umbrella", i.e. Turks patronize them.