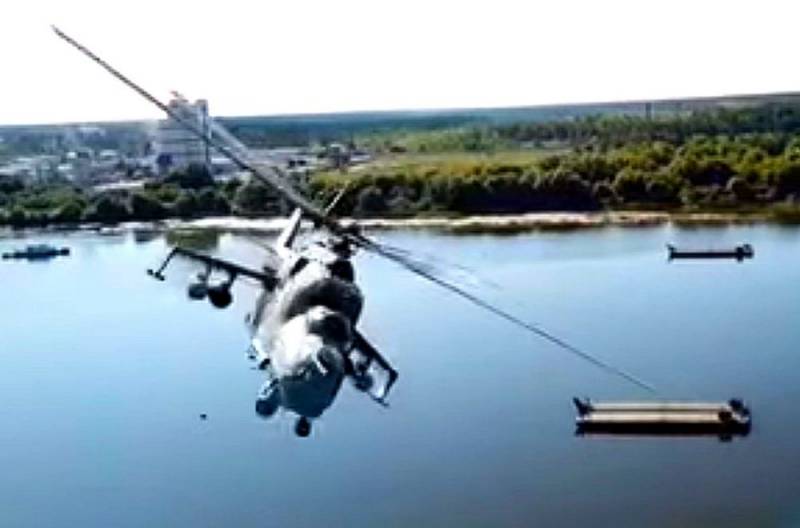 Every year in the sky it becomes more and more crowded by the continuously increasing number of various UAVs. For example, Internet user Fighterbomber posted a video on its YouTube channel that captured footage of the Russian Mi-24 attack helicopter escaping from a collision with a quadrocopter.
The video shows how the Mi-24 at high speed passes in the immediate vicinity of the UAV. It is not known who, where and when did the shooting. However, there is no doubt that the collision could lead to sad consequences.
At the same time, according to the video itself, it can be assumed that someone was filming the exercises of the Russian military on building a pontoon bridge. That is, the Russian military trained to force a serious water barrier, and this quadrocopter circled above them.
It should be added that quadrocopters and other "drones" pose a danger to both citizens and their property, as well as to other aircraft (aircraft and helicopters). And every year this danger increases.
By the way, in September 2018, over the LIDBEER festival in Lida (Belarus), the Mi-2 helicopter with tourists almost crashed into a drone. According to experts, a drone falling into the plane of rotation of the main or tail rotor would lead to an accident or disaster. And the incident itself already indicates that someone neglected the safety of people.
And before that, in February 2018, a Robinson R22 helicopter crashed at the southern tip of Daniel Island in Charleston, South Carolina, USA. According to the pilot, the cause of the crash was the DJI Phantom drone, which appeared on the way of the helicopter.
Moreover, on the Web you can find video from drones that fly in the immediate vicinity of airliners taking off or landing. Therefore, you need to think about the legal regulation of all activities related to UAV flights.