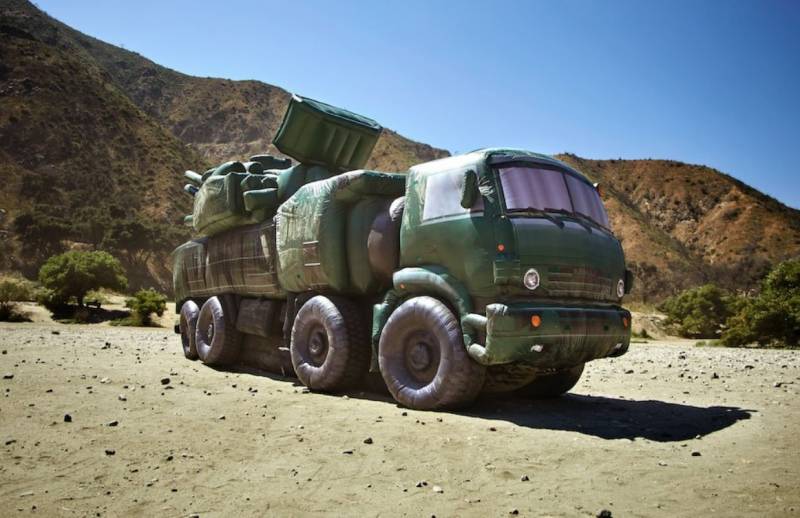 In addition to the production of modern weapons, the Russian military industry is known for producing a number of fake inflatable combat models
equipment
designed to mislead the enemy.
The Bulgarian bog-rata portal, commenting on the statement made by Turkish President Erdogan on the destruction of eight Panzir-C1 anti-aircraft gun systems in Syria and the video posted by the Turkish side, puts forward the version that we are talking about inflatable models that simulate a real air defense system.
As a confirmation of their version, Bulgarian journalists cite photographs of the Pantsir-C1 inflatable models, which, according to the editorial board, very accurately depict the real complex and are quite capable of misleading UAV operators observing from a height of several kilometers.
After all, taking a photograph of a mock-up on an inflatable one, which is true to imitating the Rusk anti-air-breathing system of the short jacket 9K96 "Shell-C1" https://t.co/QdzkaBxK50 pic.twitter.com/rvTijI6qqG

- Marsonline (@gvozdenavolja) March 11, 2020
According to the editorial staff, in conjunction with inflatable models, a number of elements are also used, which together create the illusion of real military equipment for the drone operator.
The authors of the material are convinced that along with the Pantsir-C1 complexes, the Syrian government forces received both camouflage systems for these air defense systems and inflatable models to mislead the enemy.
Recall that the Russian side denied the information of Turkey about the destruction of eight Panzir-C1 complexes and stated that it was only a minor damage to several vehicles.