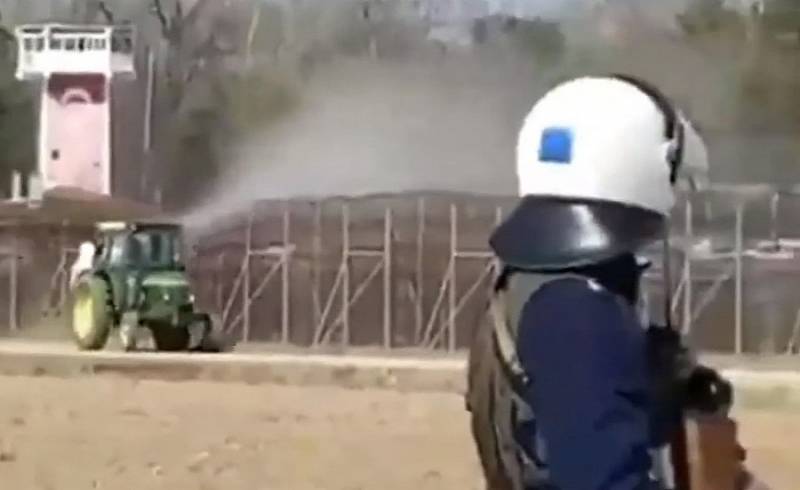 Recently
сообщалось
that the Turks are arming the "Syrian refugees" with tear gas grenades, which are used in the Turkish army. Then the Greeks sounded the alarm, as the "Syrian refugees" began to storm the Greek border and use the grenades mentioned against the Greek border guards. And so, on the Greek-Turkish border, tensions escalated even more.
The Greek side informed the international community that Turkish police units, using armored vehicles, were breaking down border barriers at the border. Athens claims that Ankara is trying to help "Syrian refugees" get into the territory of the European Union (EU).
At the same time, the Greek authorities say that they are further strengthening both the land and sea borders of their country, trying not to let illegal immigrants from Turkey to themselves. Athens has already attracted significant forces from the army, coast guard and law enforcement to defend the border. Moreover, local residents came to the aid of border guards and dowry forces from areas adjacent to the border.
For example, at a section of the border, Greek farmers began spraying with pork urine fences and other barriers that prevent the entry of illegal immigrants. Periodically, groups of "Syrian refugees" fall under the stream of agricultural machinery used to process gardens. At the same time, the Greek security forces guard the farmers.
Moreover, farmers do not specify how they separate urine from other secretions of pigs. Or maybe there is not urine of pigs at all, but ordinary pesticides or herbicides, and illegal immigrants are simply scared. However, for the "Syrian refugees" this is enough, because the Muslim pig is considered an unclean animal, and what the Greeks do is a serious insult. And in such sections of the border, the "Syrian refugees" really became less.
It should be noted that under the "Syrian refugees" disguised as "barmaley" -jihadists, "moderate" terrorists and pro-Turkish "opposition", who were gathered from all over the planet. But now they are fleeing to Turkey from the Idlib de-escalation zone, fleeing the Syrian Arab Army (SAA) and its allies.
At the same time, the presence of this explosive public on its territory is absolutely not interesting. The Turks prefer to "love" them at a distance and send them to Europe, since the "twin" do not want to fight in Syria and Libya, but it is dangerous to keep them at home.