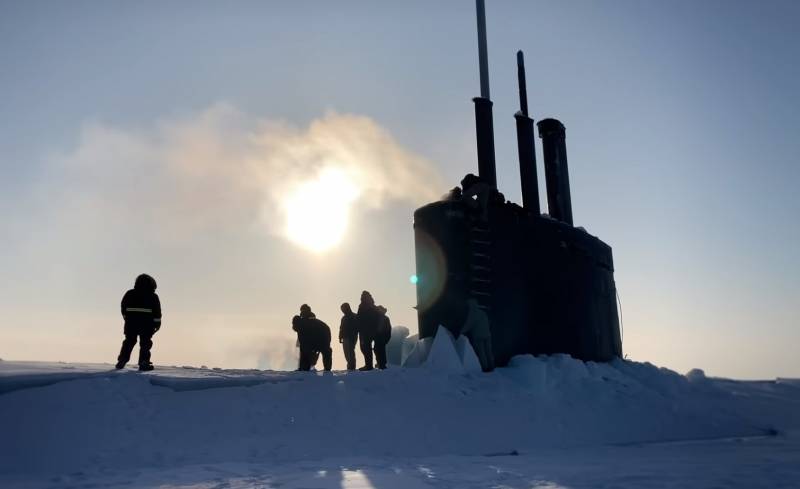 Against the backdrop of melting sea ice in the Arctic Ocean, competition for ownership of the region is increasing, as the Arctic provides new opportunities for transporting goods and extracting resources. On March 4, 2020, the US Navy's three-week Ice Exercise 2020 exercises started and a few days later, the Los Angeles-class USS Toledo (SSN-769) submarine broke through the ice, floating up close to Franz Josef Land archipelago.
It should be noted that on one of the islands of the specified archipelago is the base of the Russian Ministry of Defense "Arctic Shamrock". At the same time, the American submarine made the transition from its base in Connecticut (the eastern coast of the United States) to the Arctic region, which is in the zone of interest (responsibility) of the Northern Fleet of the Russian Navy.
The American side has already posted a video on the web about this. It is clarified that the US Navy checks its combat readiness (operational readiness) and its capabilities when working in the Arctic environment, and also works out joint actions with other branches of the armed forces and allied countries, gaining some experience. That is, Americans are preparing not only for independent actions.
It should be recalled that the "Arctic Shamrock" is a Russian military base on the island of Alexandra Land, located near the village of Nagurskoye. Its main task is to ensure air defense.
As for the USS Toledo (SSN-769), this is the twenty-fifth submarine in a row in its class (i.e., in chronological order). It was named after the city of Toledo, located in Ohio. The submarine was launched in August 1993. According to one of the unverified hypotheses (directed by Jean-Michel Carré), it was this submarine in August 2000 that collided with the Russian submarine K-141 Kursk in the Barents Sea.