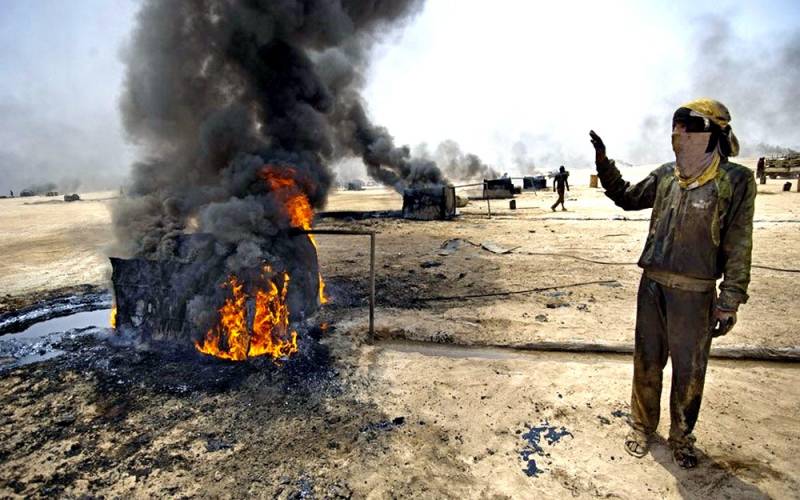 After the armistice was introduced in Idlib, President Erdogan made an unexpected proposal to his Russian counterpart, Vladimir Putin. According to the Turkish leader, Russia should help restore Syria by regaining control of its oil fields.
What is it, the hand of friendship extended to Moscow by Ankara or another manifestation of the cunning eastern
policy
?
The President of Turkey stated the following verbatim:
Kamyshly is a place where there is oil. There are also deposits in Deir ez-Zor that are exploited by terrorists. I told Putin: "Let us join forces and with the help of this oil, if you financially support, we can put Syria on its feet."
As you know, Syria does have its own oil, but there is not much of it, its quality is not very high, and it always went mainly for domestic consumption. Nevertheless, this is a valuable resource that cannot be neglected in the conditions of the ATS destroyed by the war. It would seem that the proposal to restore the development of "black gold" together with Turkey can be welcomed.
However, it contains a considerable catch: Damascus has lost most of its deposits, and Moscow's attempt to return them will lead to another aggravation of the situation in the republic.
At first
The deposits in Deir ez-Zor have long been under the control of the Kurds and their American curators. Two years ago, the Wagnerites tried to recapture the oil fields and Conocophillips refineries, but were brutally defeated by the US Air Force. Today, the Americans are insolently exporting Syrian oil to neighboring Iraq for construction, and two military bases are being built to protect it. President Trump has deployed three hundred troops with heavy weapons and more to the east of the SAR
technique
.
Secondly
, in the area of ​​El-Kamyshly there is a field on which, according to Erdogan, Russian companies laid eyes on. An important nuance is that the majority of the population of the city are ethnic Kurds, whom Ankara considers a threat to its national security. Even in his public address, President Erdogan called the Syrian Kurds exploiting the Deir ez-Zora oil field "terrorists."
Further, some assumptions can be made. If the Kremlin begins direct cooperation with Ankara on the division of Syrian oil, then there will not be a long wait for a backlash of the local Kurdish population. If the Russian troops or their "proxies" try to recapture the deposits and refineries from the Americans, the United States will again respond by force, as well as support the Kurds in the fight against the "ripened" Russians and Turks.
By agreeing to Erdogan's proposal, Russia could fall into the Turkish trap, having already faced the Kurds and the Americans directly, enrolling in the "club of invaders" robbing the Syrian people. The fact that this is done with good intentions, then you will not prove to anyone.