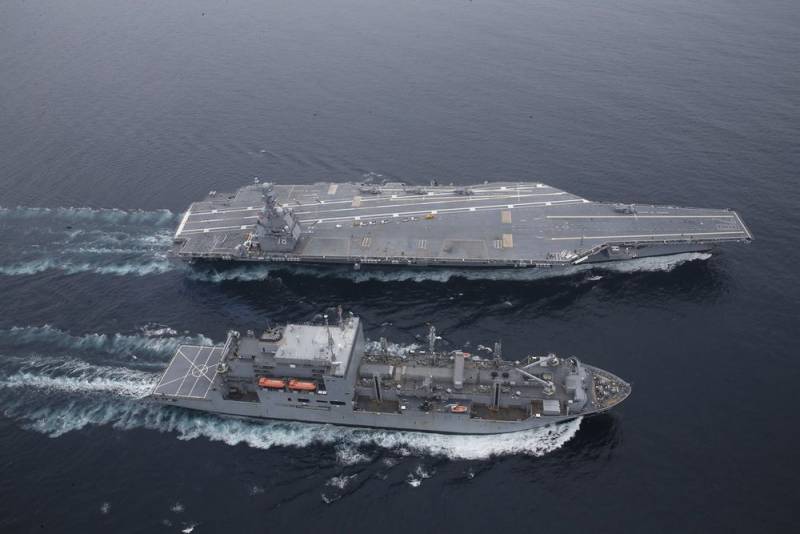 According to the American edition of Military Watch, the US Navy is currently revising its plans to invest in aircraft carriers, taking into account new threats and financial difficulties. Prior to this, American admirals simply wanted to replace ten Nimitz-class carriers with new Gerald Ford-class carriers, but time has made adjustments to this process.
It is noted that more powerful new reactors (A1B) are installed on new aircraft carriers, which are capable of producing 25% more electricity. Electromagnetic, not steam catapults are used. The level of automation has increased and the number of staff has decreased. But new aircraft carriers cost about $ 15 billion apiece, i.e. they are almost three times more expensive than aircraft carriers of the previous class, which have practically the same displacement and perform the same tasks.
For clarity, it should be clarified that in July 2017, the US Navy accepted the USS Gerald R. Ford (CVN-78, Gerald R. Ford) multipurpose nuclear carrier, which was built since 2009. In the summer of 2015, the construction of the USS John F. Kennedy aircraft carrier (CVN-79, John F. Kennedy) was launched, and in the spring of 2018, the construction of the USS Enterprise aircraft carrier (CVN-80, Enterprise) began. It is planned to spend $ 42 billion on a series of these three aircraft carriers.
However, according to Military Watch, the U.S. Navy plans to begin a study of a future group of aircraft carriers (which will appear after 2030) to assess their survivability in the face of emerging threats. Moreover, one of the possible options is the completion of the program for aircraft carriers of the Gerald Ford class (it was planned to build 10 pieces). Therefore, the publication suggests that the US Navy will no longer place orders for these aircraft carriers and will be limited to three ordered.
As for the survivability of aircraft carriers, the publication believes that in recent years it has been called into question, given the existing Chinese missiles DF-21D and DF-26 and the Russian X-47M2 "Dagger" and "Zircon" (3M22), which are capable of hitting aircraft carriers at large distances and high speeds. At the same time, the US has no protection against these missiles.
In addition, in December 2019, the DPRK took up the development of such weapons. Therefore, the publication will be watching with interest how the US Navy will develop in the new conditions.