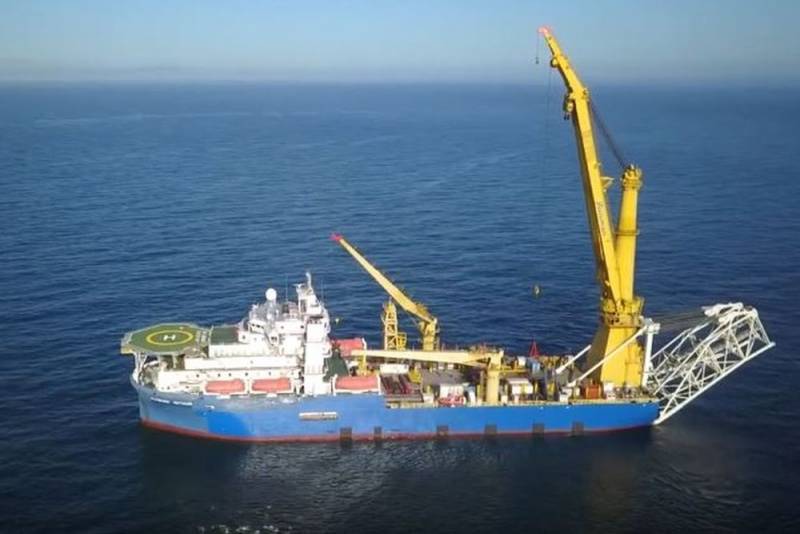 The Akademik Chersky crane-assembly pipe-laying vessel (KMTUS), owned by Gazprom Fleet LLC (100% subsidiary of Gazprom PJSC), continues to move in the waters of the World Ocean, gradually approaching the Baltic Sea. The path of the vessel capable of completing the Nord Stream 2 is tracked by the Vesselfinder navigation portal.
It should be noted that according to the specified portal, "Academician Chersky"
out
from Nakhodka on February 9, 2020. Then, at the end of February 2020, the ship passed Singapore and headed towards Colombo (Sri Lanka). March 3, 2020 KMTUS approached Sri Lanka and "disappeared from the radar."
And it turned out that the Russian ship did not go anywhere. It simply turned off the data transfer - automatic identification system (AIS). After that, the "Academician Chersky" waited several days for the approach of warships of the Russian Navy.
On March 6, 2020, the pipelayer, accompanied by the Baltic Fleet Yaroslav the Wise, a patrol ship (TFR) (arrived in Colombo on March 4, 2020), headed towards the Gulf of Aden, where they are already waiting for the support vessel (Yelnya tanker and tugboat "Victor Konetsky"). At the same time, a large anti-submarine ship (BOD) of the Pacific Fleet "Admiral Vinogradov", which followed the pipe-layer from the Far East, entered Colombo. Thus, the Russian Navy, "passing the baton", guides the convoy through the troubled waters of the oceans.
Necessary
add
that at present in the area of ​​Gulf of Hormuz, the US Navy AUG is in charge, led by the nuclear-powered aircraft carrier USS (CVN 75) Harry S. Truman ("Harry Truman"). At the same time, another AUG of the US Navy, led by the Eisenhower aircraft carrier, is moving from the Mediterranean Sea. So, there was a high probability that in the Gulf of Aden a lone "Academician Chersky" could be attacked by "some pirates".
Now, to "Academician Chersky" no pirates are scared, even if it will be two AUG US Navy. Therefore, there is a high probability that the vessel will safely reach the Baltic Sea and eventually complete the Nord Stream-2.