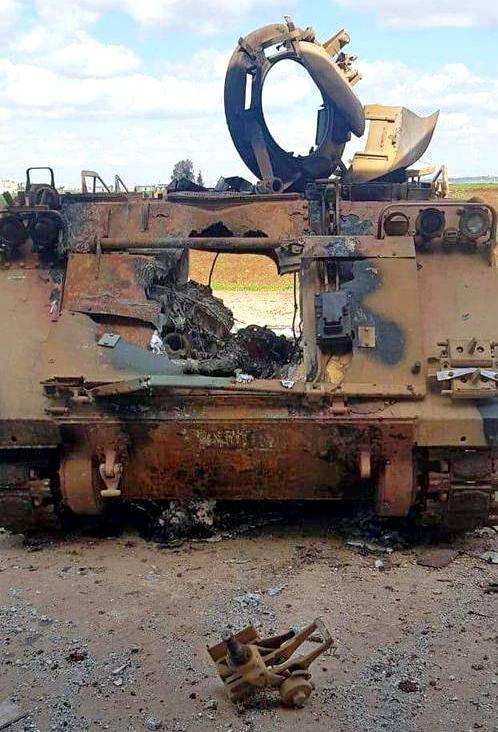 The operation of the Turkish Armed Forces "Spring Shield" is completed, and the parties to the conflict vied with each other to report on their successes. So, Ankara announced the elimination of more than 3000 Syrian troops, the failure of 150 units of various armored vehicles, the destruction of three aircraft, as well as many mortars, self-propelled guns and pickups.
The Syrians, in turn, announced the destruction of 12 UAVs and 53 military personnel of the Ministry of Defense of Turkey. Losses supported by the Turks fighters in the province of Idlib are thousands.
Meanwhile, after the liberation of the city of Serakib, a lot of trophies fell into the hands of the Syrian army. Basically, these are weapons of American and European production, in particular, anti-tank systems, mortars and various ammunition. Along with this, the Syrians gained access to the military
technology
(both destroyed and partially damaged) left by the militants.
So, a heated discussion on the Web was caused by a photograph of a Turkish armored vehicle M113 (American-made). In the frontal part of the body there is a hole with a diameter of about one meter. Obviously, the shot from the portable anti-tank complex, which are armed with terrorists, could not leave such a "mark".
Users suggest that the enemy's armored vehicle most likely hit an artillery shell of 152 mm caliber, and given the enviable accuracy of the hit, it could be a Krasnopol corrected artillery ammunition. Information has repeatedly appeared in the media about the active use of this type of projectile by the Syrian army.
The maximum range of the Krasnopol shot is about 25 km.