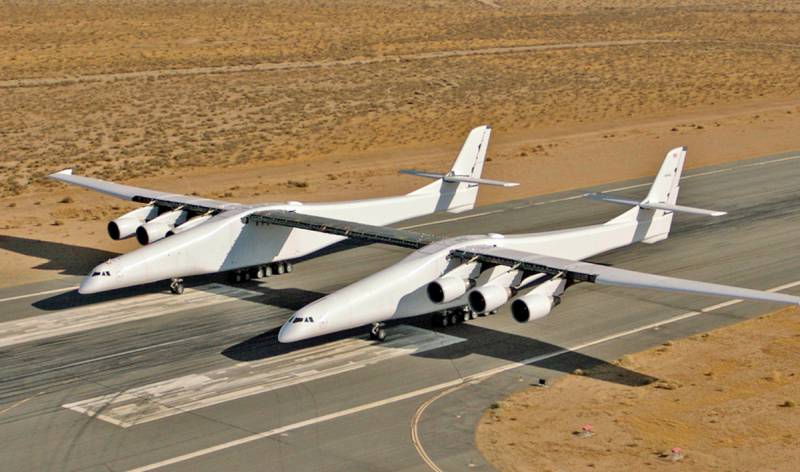 The plane with the world's longest wing can return to the sky as early as September of this year. The resumption of test flights Stratolaunch Model 351 said the vice president of the same name company Mark Bitterman.
However, according to the functionary, the concept of using the aircraft will once again undergo changes. Model 351 in the coming years will not be used to launch missiles, as previously assumed. The device is involved in testing various
of technologies
and instruments in atmospheric and suborbital hypersonic flights.
Recall that the project of a two-fuselage aircraft with the longest wing in the world (117,3 measures) was presented by Stratolaunch in 2018. It was assumed that the device will be used instead of the first stage of the launch vehicle, launching the rocket to an altitude of 11 km, where separation will take place, and the device will continue to fly to orbit on its own.
After the death of Stratolaunch founder Paul Allen in late 2018, the company first abandoned the development of its own rockets, and then, due to financial difficulties, the project was put up for sale at all. Now, Mark Bitterman said that the Stratolaunch Model 351 will continue flights, but within the framework of a new concept, where the aircraft will become a carrier for hypersonic devices created by both the company and third-party developers.
At the same time, it is worth noting that back in 2018, Stratolaunch engineers submitted an article describing two hypersonic devices reaching speeds of 6 and 10 Machs. Perhaps it is these developments that will be further used by the American company.