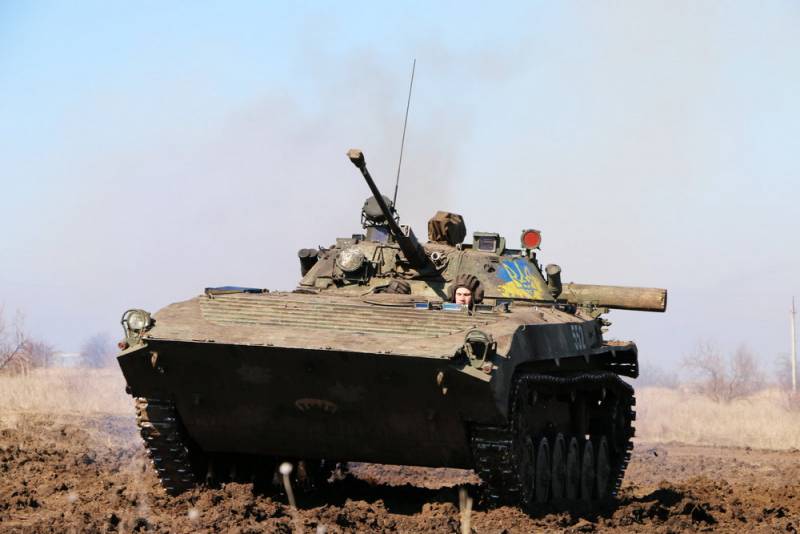 The greed of the Ukrainian army caused the death of an officer, injuring five soldiers and the destruction of an infantry fighting vehicle.
This was announced during a briefing by an officer of the press service of the LPR People's Police, Ivan Filiponenko.
Referring to his own source in the Ukrainian unit, the officer said that during the equipment of the firing position, servicemen of the 95th Armed Forces brigade discovered an aircraft bomb from World War II.
Instead of calling sappers to defuse the ammunition, the Ukrainian soldiers, with the goal of further profit, decided to independently extract the bomb using the BMP, picking it up with a tow rope.
During the extraction of the bomb, an explosion occurred, which killed Lieutenant Firsov, and another five militants - Junior Sergeant Kovalchuk, senior soldier Panchenko, soldiers Sinenko, Gvozdev and Starchenko were injured, and the fighting vehicle was destroyed.
Currently, the military prosecutor's office and the commission of the headquarters of the OTG "Sever" of the environmental protection command are investigating the emergency.
The Ukrainian media, as has happened more than once, have spread a fake about the heroic death of Lieutenant Firsov as a result of the undermining of an infantry fighting vehicle.
We will remind, the Ukrainian military prosecutor's office does not hide for a long time that the main reason for the death of soldiers of the Armed Forces in the anti-terrorist operation zone is low professional training and conflicts arising from the use of alcoholic beverages.