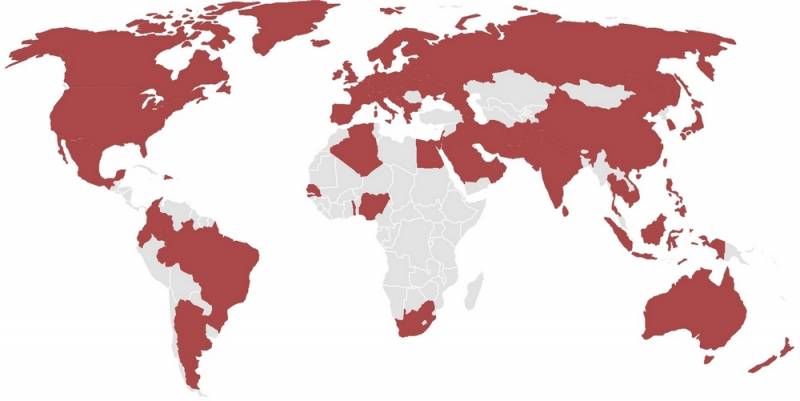 Color indicates countries where coronavirus is detected
Born in China, the new coronavirus COVID-19 is inexorably spreading across the planet: the number of countries that have detected an infection on its territory is approaching a hundred.
Last night, cases of coronavirus infection were reported in Moldova, Paraguay, Bulgaria and Malta, and in countries where the disease has reached earlier, the number of infected continues to grow.
The figures given by the medical departments of various countries cannot but impress.
According to the State Committee on Hygiene and Health Care of the People's Republic of China, 80,7 thousand people fell ill from the outbreak of the epidemic, of which 3097 died.
In Europe, Italy leads in the number of cases, with 5833 infected and 233 fatalities detected. In France, the number of infected almost reached a thousand, and 11 people died.
The processes of globalization, which are actively going on all over the world, have led to the fact that distances no longer play the role of a barrier in the spread of infections: the new coronavirus reached Africa as soon as possible and affected both Americas - North and South.
Currently, all countries of the world are taking measures to limit the spread of infection, but experts refrain from making any forecasts.