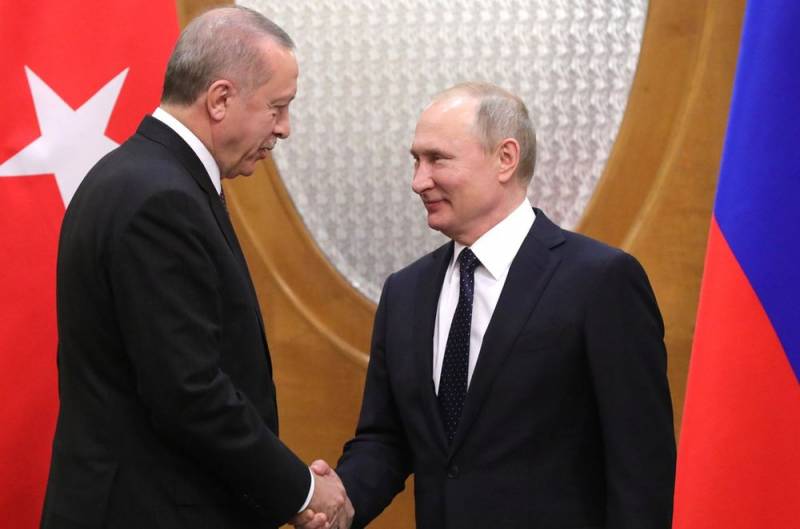 On March 5, 2020, Turkish President Recep Tayyip Erdogan arrived in Russia on a working visit. Russian President Vladimir Putin received his Turkish counterpart in the Kremlin. After that, the heads of state began negotiations to resolve the crisis in Syria, taking into account the aggravation of the situation in the Idlib de-escalation zone.
It should be noted that at the beginning of the meeting, Putin expressed condolences over the death of Turkish troops in Syria. According to the Russian leader, "death is always a big tragedy." Putin added that no one knew of the whereabouts of the Turkish military. In addition, Putin regretted that the Syrian military suffered. He emphasized that "the Syrian army has serious losses."
The Russian leader clarified that the heads of state should definitely speak out and discuss the situation that has developed today. Putin pointed out that this is necessary so that nothing like this will happen again and this does not violate the Russian-Turkish relations, which the parties value very much.
After that, Putin said that he was ready to start the conversation "face to face" (tête-à-tête), and if necessary, to connect the necessary employees who are nearby (delegations).
As you requested, we are ready to start a face-to-face conversation, and then, if necessary, connect our colleagues, who are to our left and right here in the hall
- Putin said.
Erdogan in response expressed gratitude for the reception.
Necessary
to remind
that on February 27, 2020, the "barmalei" jihadists and "moderate" terrorists, with the active support of the Turkish army, attempted a large-scale offensive against the Syrian Arab Army (SAA) in the Idlib de-escalation zone. SAA opened fire, and the Turkish military, who were in the ranks of the militants, suffered as a result. Then 36 Turkish soldiers died and about 30 were injured of varying severity.