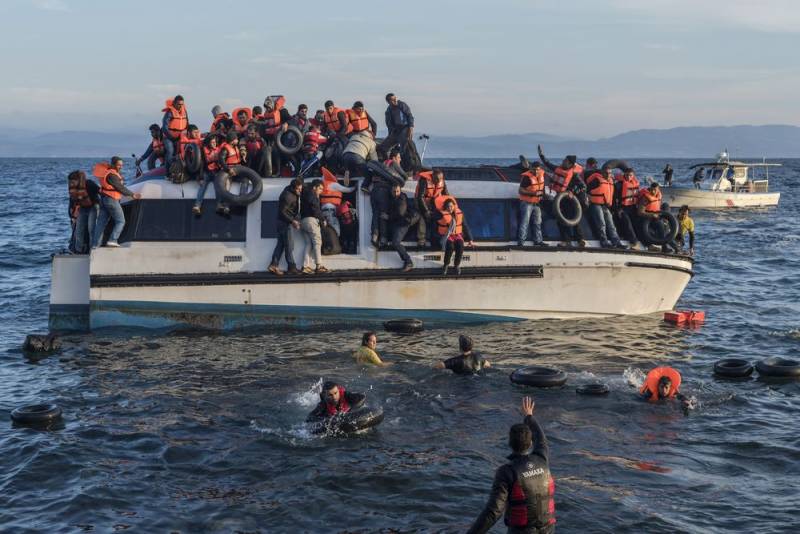 Ankara continues to cynically blackmail Europeans, extorting support from them in Syria, with the possible subsequent annexation of part of Syrian territory by Turkey (historical precedent
there is
) Moreover, the Turks exert migration pressure on the European Union (EU) not through poor Bulgaria, but through fully secured Greece, with which Turkey has historically complicated relations.
It should be noted that the Greek authorities are already sounding the alarm in this regard. For example, Greek government spokesman Stelios Petsas informed the public that the "Syrian refugees" gathered on the border of his country with Turkey use tear gas grenades used by the Turkish army against Greek border guards, law enforcement officers and the military.
Migrants trying to break into Greek territory use tear gas used by Turkish army
- said Petsas.
Petsas emphasized that the Turkish authorities are not just helping the "Syrian refugees" (of which only a part are from Syria) get to the border with Greece. In his opinion, this action looks like a well-planned and coordinated operation of Ankara.
This is confirmed by a meeting of migrants in the center of Istanbul, in Edirne and other places, and free organized transportation to the border, accompanied by the Turkish gendarmerie. Evidence from migrants confirms that they receive instructions from the Turkish authorities. Messages that migrants receive on their phones say the border is open
- explained Petsas.
According to him, the Greek side is preventing the illegal entry of "Syrian refugees" into the EU. Therefore, he would not be surprised if Ankara attacked Athens and launched a campaign to misinform the international community.
It should be recalled that on February 29, 2020 in Turkey
announced the
that open their border to the "Syrian refugees" seeking to Europe. After that, the Turkish Interior Minister Suleiman Soilu promptly reported that over 100 "Syrian refugees" had already crossed his country's border with the EU.
As of 19.40, the number of refugees who left our country through Edirne is 100 thousand 577 people
- the Turkish minister said.
At the same time, the Greek authorities reported that, starting from March 1, 2020, about 5,5 thousand attempts to illegally enter Greece were prevented. Moreover, dozens of arrests are made daily and criminal cases are opened about illegal entry into the country. It was also said that the "Syrian refugees" threw stones at Greek forces.
One can imagine what bacchanalia occurs in the Aegean Sea, dotted with many islands. At the same time, Ibrahim Kalin, a special adviser to the Turkish president, claims that Ankara does not use "Syrian refugees" as a means of political blackmail. He has already stated that Turkey is not trying to "create an artificial crisis", but is not going to keep people by force in its territory.
After which, Kalyn added that Europe is obliged to accept "Syrian refugees" in accordance with international law. However, he did not specify why, according to the same international law, "Syrian refugees" cannot remain in Turkey.