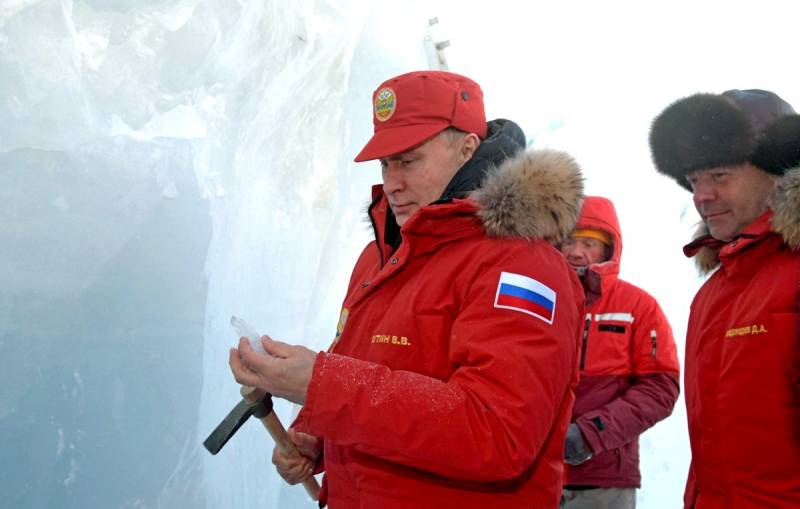 The world is paying too little attention to the Russian Arctic and the polar region as a whole, although important events are coming there, writes the American publication The Trumpet. Melting ice and
technical
progress has led to the fact that the potential of the North has come into the view of adjacent states, and a desire has appeared to take it under control.
During a recent visit to the Arctic, Russian President Vladimir Putin said that "natural resources that are of paramount importance to the Russian
economics
are concentrated in this region. " The US Geological Survey agrees with its assessment, because in the Arctic, up to 30 percent of the world's natural gas reserves and 13 percent of oil are hidden. It is also known that the region has a considerable number of deposits of gold, platinum and zinc.
- noted in the text of the publication.
Continuing to quote the Russian president, The Trumpet informs readers that current estimates of Arctic unused resources reach $ 30 trillion. This is 20 times the current GDP of all of Russia. It's easy to understand why Putin decided to overcome the cold, distances and geopolitical competition in the struggle for these resources, the media argues.
In addition, the Northern Sea Route itself is also very important. It reduces the delivery time of goods from China to Europe to 15 days.
Further, the media saw a threat to the world order in the desire of Moscow to control its own waters.
If Russian activities along the Northern Sea Route were carried out in accordance with international law, this would be a boon to the global economy. But in March 2019, the Russian Federation issued a number of alarming requirements for foreign ships transit in transit along this route. Any ship that does not obey them can be detained or even "destroyed", the Russian government said. And even if a foreign ship fulfills all the requirements, Russian officials say that they can reject any transit request without giving any reason. The disturbing and illegal clause of these rules concerns the Bering Strait, which lies between Russia and the USA.

- writes the edition.
According to international law, any state can exercise restrictions within its territorial waters and exclusive economic zones, but this rule does not apply to straits. Russia seeks to control everything, and for this it has enough strength, and the icebreaking fleet is becoming stronger and more numerous. It follows from this that Moscow's position in the region will only be tightened.