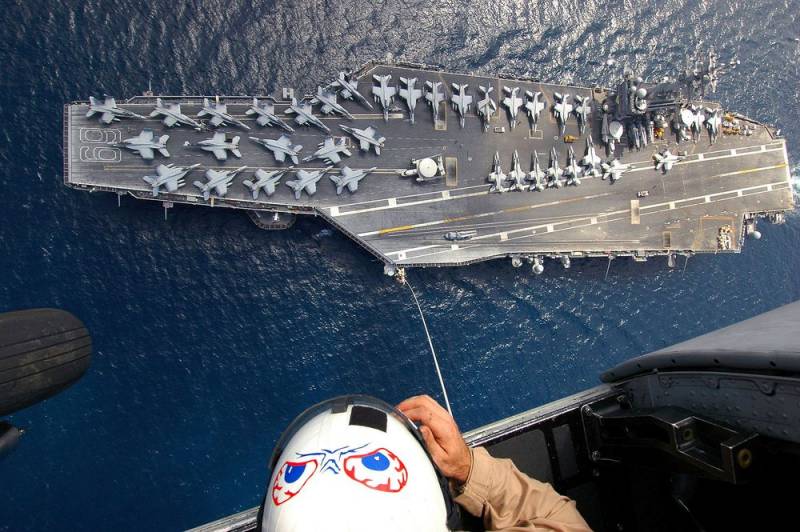 British media have reported that the US Navy's aircraft carrier strike group (AUG), led by the USS atomic carrier (CVN69) Eisenhower (Eisenhower), entered the Mediterranean Sea from the Atlantic Ocean, passing the Strait of Gibraltar. According to them, the specified AUG is sent to the eastern part of the Mediterranean Sea, where it will be for some time off the coast of Syria.
Then this AUG will head for the Persian Gulf, where it will replace the AUG led by the nuclear-powered aircraft carrier USS (CVN 75) Harry S. Truman ("Harry Truman"), which is now on duty in the Gulf of Oman. It should be noted that in May 2019, US President Donald Trump decided not to write off Harry Truman (construction began in November 1993, launched in September 1996, and was commissioned in July 1998). Trump's decision will cost the US budget $ 20 billion over the next 20 years.
As for the AUG led by the Eisenhower aircraft carrier, it includes: USS San Jacinto (CG-56) (San Jacinto) and USS Vella Gulf (CG 72) (Vella Gulf) missile cruisers, as well as destroyers Truxtun (DDG-103) (Trakstan), USS James Williams (DDG-95) (James E. Williams) and USS Stout (DDG 55) (Stout). Onboard the Eisenhower aircraft carrier, 48 F / A-18E Super Hornet fighter-bombers are deployed. However, it is not reported whether this AUG is accompanied by an atomic strike submarine (nuclear submarine) equipped with Tomahawk cruise missiles. Although such a nuclear submarine should accompany each AUG.
It should be added that in the Mediterranean Sea there is a Russian squadron of 15 warships and support vessels. On February 28, 2020, two more frigates were sent to them - Admiral Makarov and Admiral Grigorovich, equipped with Caliber cruise missiles and the Orsk large landing ship (BDK).