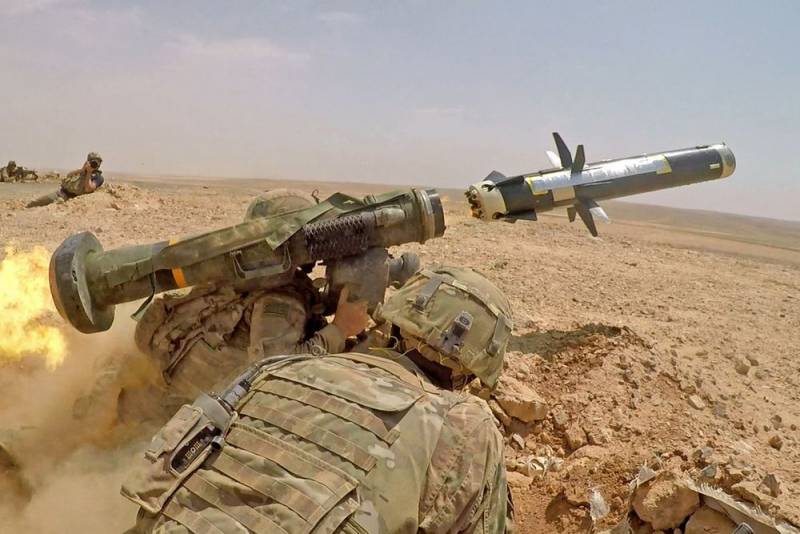 On February 28, 2020, the Pentagon disseminated information that it had provided a contract for the production of Javelin "Javelin" portable anti-tank missile systems (ATGMs) to the joint Raytheon group of companies, Lockheed Martin. This is stated in the notification of new commercial agreements concluded by the Pentagon.
It should be noted that the mentioned contract provides for the production of the indicated ATGMs in the amount of $ 18,4 million. It is specified that under the program for the sale of weapons and military
equipment
abroad, anti-tank systems will be produced for Australia, Georgia, Indonesia, Jordan, Ireland, Qatar, Lithuania, New Zealand, Norway, the United Arab Emirates, Oman, Turkey, Ukraine, France, the Czech Republic and Estonia.
ATGM will be produced in the city of Tucson (Arizona). Estimated completion date is June 25, 2020.
The strangeness is as follows. The cost of one complex (launcher), complete with 6 missiles, ranges from $ 600 thousand for the United States and allies, and up to $ 1,4 million for export (in 2017 prices). Thus, if the above contract amount of $ 18,4 million is correct, and all the buyer countries are US allies, it turns out that each of the countries will receive no more than 2 ATGMs and 12 missiles for them.
However, it is normal for Estonia, Lithuania and Georgia. Local Russophobic politicians will be able to PR against the backdrop of a couple of "Javelins." As for Turkey, a pair of Javelins will not help her in Syria - more substantial supplies are needed.
In turn, in January 2019, Kiev already received 37 launchers from Washington and 210 anti-tank guided missiles for them, totaling $ 47 million. After that, in December 2019, the Ukrainian authorities started talking about a new contract without clarification and concretization.