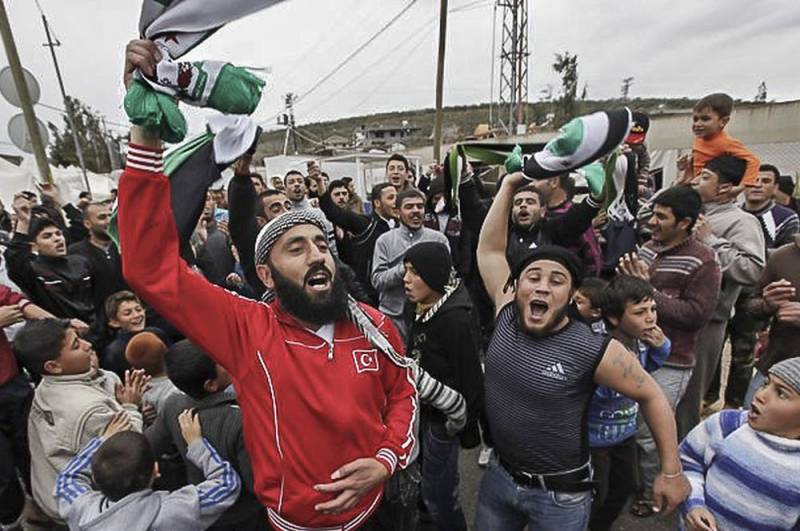 Recently reported as Turkish President Recep Tayyip Erdogan
rang
and asked the Russian leader Vladimir Putin to leave him face to face with Damascus. After that, Greece strengthened the protection of the sea and land borders with Turkey and
blocked
NATO statement of support for Ankara in Syria. And so, Erdogan said that his country has opened its border with the European Union for "Syrian refugees."
It should be noted that tens of thousands of "Syrian refugees" from among the pro-Turkish "opposition", "moderate" terrorists and all kinds of "barmale" Wahhabi jihadists fundamentally refuse to go to die in Libya. In Syria, they are all the more uncomfortable, so they began to massively move to neighboring Turkey. But Erdogan does not need this explosive mass in Turkey.
At the same time, Erdogan will not organize a mass clean-up of his "brothers-in-arms" from Syria. He simply will not be understood in his own parliament, which is packed to the limit with Islamist conservatives and Turkish nationalists. Therefore, Erdogan decided to give the "brothers" the opportunity to "nightmare" Europe a little under the guise of "Syrian refugees" or "
political
migrants ". And soon this audience will "amuse" the Europeans, who "cynically" refused to fight for the ideals of "democracy" in Syria.
We have long said that we are not obliged to accept so many refugees. You promised us help, but you are not doing anything, and yesterday we opened our borders. Already 18 thousand refugees have passed, and today, perhaps, there will be 25-30 thousand, and we will not close our doors. Because the EU must keep its word
- said Erdogan.
With this statement, Erdogan demonstrated to the "twin cities" that he was the main guardian of their rights, and Europe showed that he was not just throwing threats. He specified that until recently no one in Europe believed that Turkey was capable of such a step.
It should be recalled that, starting in March 2016, Ankara regularly "milked" Brussels. She received money for keeping the mentioned "Syrian refugees" away from the borders of the European Union. And it is clear that the Europeans did not believe that the Turks would cut the money tree on which they were sitting. But the East is a delicate matter.