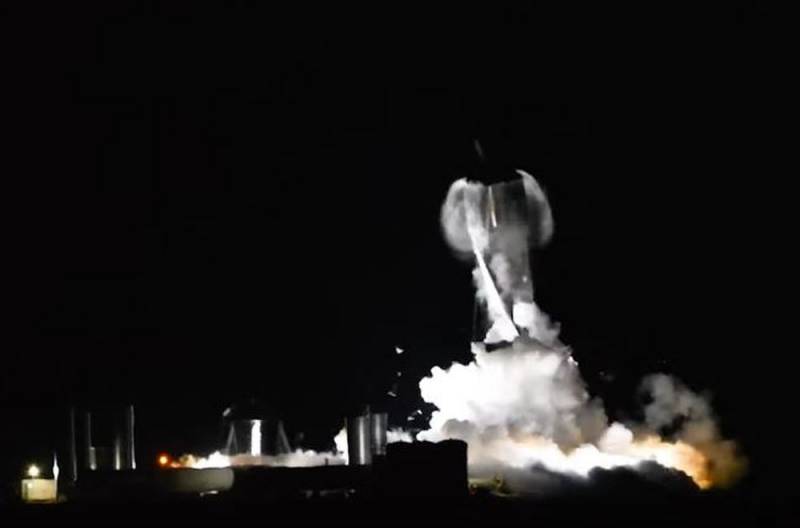 The American company SpaceX conducted another test of the prototype rocket Starship. They were held at the company's training ground near the village of Boca Chica (Texas). Like the previous similar cryo-test, these tests culminated in an explosion.
It should be noted that prototype testing began on February 28, 2020 at 22:00 local time (February 29, 2020 at 07:00 Moscow time). The video shows how when filling a tank (tank, tank) with liquid nitrogen, it scatters to pieces.
It is specified that during the specified cryo-test (maximum filling of fuel tanks with cryogenic liquid) no one was hurt. It is explained that this prototype was specially created for testing, i.e. its destruction (destruction) was planned. Moreover, a decent amount of different tests and tests are planned in SpaceX.
Do not worry about it. Testing, crashing, fixing, testing, crashing, fixing is SpaceX's tactic. They will learn from this and do everything right.
- Michael Baylor, creator of Next Spaceflight, wrote on his Twitter account.
Despite the fact that I was hoping for a successful test, I have to admit that it was pretty epic, but SN2 will definitely be better
- wrote user Christopher Campfield under the video.
By the way, the head of SpaceX, Elon Musk, promised that the orbital flight of the Starship prototype will take place in 2020.
It should be added that on January 29, 2020, SpaceX already conducted a similar test. Then also tested the capacity (tank, tank) for Starship. The overpressure was 8,5 bar.
Necessary
to remind
that flight tests of the Russian Angara-A5 heavy carrier rocket (LV) will be substantially reduced. Moreover, test launches will be reduced from ten to six at the Plesetsk cosmodrome, and there may be even fewer test launches at the Vostochny cosmodrome.