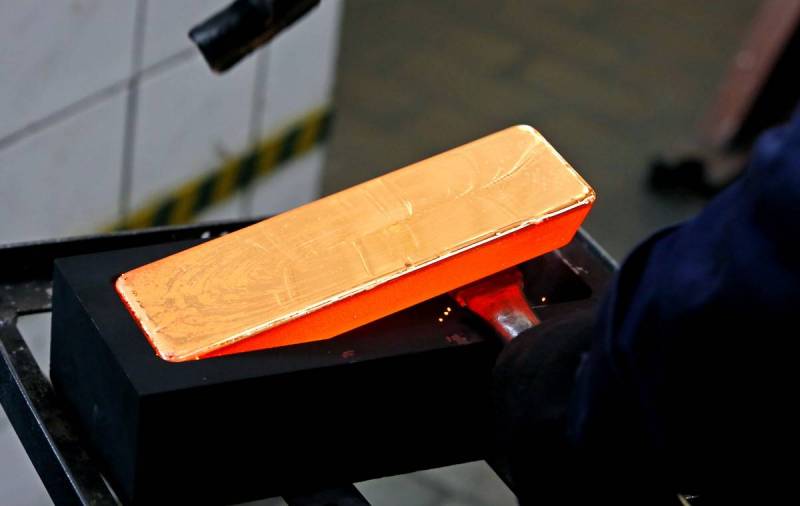 According to RBC, last year Russia set a record for gold exports to the UK, increasing its volume by eight times. In addition to the yellow metal, London bought twice as much platinum and two and a half times silver. Why is this information inconsistent?
So, let's try to figure out what happened. According to the Federal Customs Service, in 2019 Russia sold 5,33 billion dollars worth of precious metal to the United Kingdom. For comparison, in 2017, exports to the UK amounted to 10,4 tons, and two years later - already 113,5 tons. The price of gold is rising, the budget has received money, but is it worth it to rejoice in this "deal of the century"?
Why is it to London?
As you know, the United Kingdom is the world's largest "golden hub", an international center for its trade and storage. Both non-resident investors and London itself could buy Russian gold in anticipation of the expected Brexit. In 2019, about 9 thousand yellow metal ingots were taken to the island from Russia.
From the UK, a significant part of it can subsequently migrate to China or India. These countries are actively increasing the size of their gold reserves. In addition, China bought directly from Russia last year a precious metal worth $ 21 million, Switzerland - 133 million, Kazakhstan - $ 247 million, thereby increasing its purchases from us by 28 times.
Why is it Russia?
Why buy up the rising gold price of the above countries, everything is clear, but why Russia should sell it? Some domestic economists argue that exporting gold is now profitable, as the price of yellow metal rises, mining provides jobs, tax revenue and GDP growth. But there is another view of this problem.
Some time ago on the "Reporter" came out
publication
with the heading "The trend is alarming: has gold begun to slowly" flow away "from Russia?" In it, we described in detail how yellow metal is taking revenge more and more quickly in relation to an unsecured dollar. All leading powers are buying gold, which is the main defensive asset and at the same time growing in value.
Politics
In this regard, the Central Bank of the Russian Federation could only be greeted earlier: our country was ahead of China, rising to fifth place in the world ranking of the largest holders of this precious metal. We will maintain this pace, and soon we will rise even higher, bypassing Italy and France. Given that Russia itself produces it, this is quite realistic. Jobs are saved, taxes are paid without selling gold abroad. Its price for 2019 increased by 25%.
But, instead of raising the country to fourth, or even third place in the world, financial authorities began to sell precious metals abroad, and not to anyone, but to Britain, which was openly unfriendly to us. Inevitably, an analogy arises with a drain in the bathtub, through which excess water flows. We can observe something similar with the means of the NWF, where the "surplus" of oil excess profits are stored.
The funds accumulated there are already enough so that they can be invested in your own
the economy
but our system liberals are in power
cranked up
scheme with the sale of Sberbank to the government of the Russian Federation by the Central Bank of the Russian Federation at the expense of this money.
As a result, the volume of liquid assets of the NWF will drop below 7% of GDP, and you will have to forget about your own economy. One gets the impression that something similar began to happen with gold: its "surplus" is carefully dumped to our Western "partners."