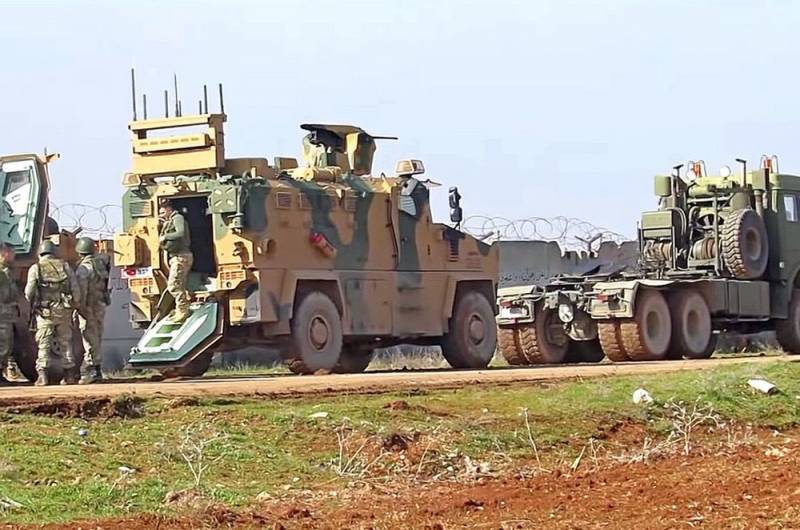 Turkish media report that martial law has been introduced in the country and the Turkish parliament is going to officially "declare war on the Assad regime" because of what is happening in the Syrian province of Idlib. In addition, there is a restriction on access to social networks throughout Turkey.
It should be noted that the Turkish leadership has been cynically blackmailing the EU for several years with a "stream of refugees" from Syria. Moreover, from the part of Syria where the Turkish troops are located. So this time, spokesman for the ruling Turkish Justice and Development Party (with a right-Islamist bias) Omer Celik said that Turkey is no longer able to restrain the "flow of refugees" from Syria. So this is Ankara's predictable move. Although back in October 2019, the French leader Emmanuel Macron said that NATO would not help the Turks in Syria, since no one attacked Turkey.
It must be clarified that the hysteria in Ankara began after 33 of their troops died in the Idlib "de-escalation" zone (according to Turkish information). The Center for the Reconciliation of the Belligerents (CPVS) specified that on February 27, 2020, the "Barmalei" jihadists and "moderate" terrorists, with the support of the Turkish army, attempted a large-scale offensive against the Syrian Arab Army (CAA). Moreover, on the night of February 28, 2020, the Turkish army attacked the positions of the SAA in the Idlib "de-escalation" zone and destroyed the Syrian military convoy.
In response, the Syrians opened fire, and the Turkish military, who were in the ranks of the militants and other "opposition", came under fire in the area of ​​the settlement of Behun. It is emphasized that according to the Turkish side, their troops in the area of ​​this settlement "were not and should not be." At the same time, aviation of the Russian Aerospace Forces in the area of ​​the specified settlement was not used.
Moreover, after the Russian side received information about the injured Turkish military, measures were taken to cease fire the SAA, the evacuation of the wounded was safe and the bodies of the dead Turkish military were transported to Turkey. At the same time, Turkish media disseminated information that the Turkish military convoy was destroyed as a result of the airstrike.
It should be added that if Ankara decides to declare war on Damascus, then in this confrontation Turkey will have only two allies - Qatar and the group of "opposition" in Syria. The international community is unlikely to side with Turkey. It is difficult to say whether Ankara will pull two military campaigns - in Syria and Libya.