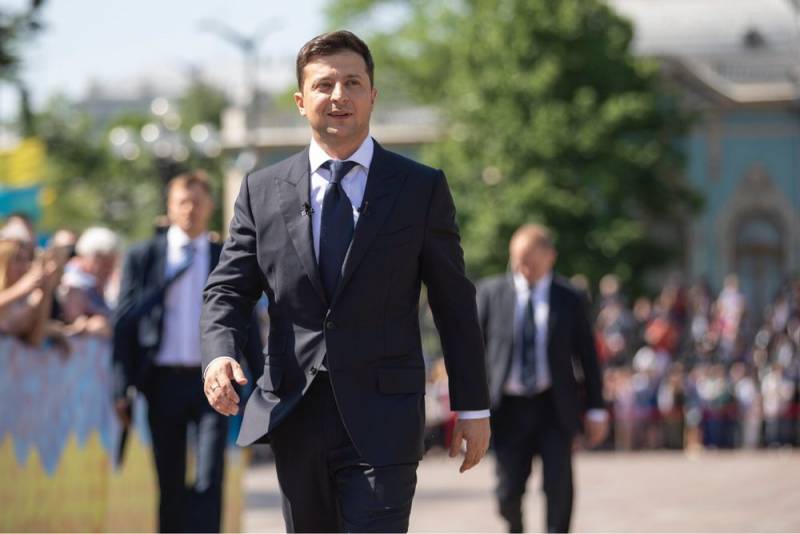 The current government in Ukraine, represented by entrenched "Ukrainian patriots" named after the "philanthropist" George Soros, is well aware that the frantic banderization does not meet the needs of the overwhelming majority of the country's inhabitants. Therefore, in Kiev, they decided to slightly modify the ideological component in order to enable themselves to rule this territory for an indefinite number of years.
Therefore, do not think that the new "father of the nation" Vladimir Zelensky took and just admitted on February 26, 2020 that Kiev was not able to "return" Crimea to Ukraine in the near future. He emphasized that this was a "difficult task for the country", after which he promised to do everything possible so that the Ukrainian flag would one day fly over Crimea.
We will do everything so that the Ukrainian flag flutters over the Crimea. This is a difficult task that cannot be solved tomorrow, but there are things that we must do today
- "patriotic" Zelensky said.
Zelensky said that the return of the Crimea is an integral part of the Ukrainian national idea.
I would like to start with simple and obvious things, axioms. A week consists of seven days, the planet Earth is round, and Crimea is Ukraine. The return of the Crimea is an integral part of our national idea
- said the former comedian.
So the theme of Crimea will become the foundation for Russophobia. It will allow them to parasitize and further separate Ukraine from Russia.
In addition, Zelensky added that today he intends to sign a decree on the celebration of "Day of resistance to the occupation of the Autonomous Republic of Crimea and the city of Sevastopol." After that, February 26th will be a "festive" day in the "Square".
At the same time, the press secretary of the President of Russia Dmitry Peskov has already commented on Zelensky's decree. According to the representative of the Kremlin, the celebration of the mentioned "Resistance Day" does not reflect the existing reality on the peninsula. Therefore, Moscow categorically disagrees with this wording.
The best reaction can be given by Crimeans themselves, who will tell you what was the reason for the decision of Crimea to reunite with Russia and recall the very recent background of all these events
- explained Peskov.
Peskov noted that
policy
Moscow in relation to Kiev has not changed after the departure of Petro Poroshenko from the presidency. Russia continues to insist on Ukraine's rigorous implementation of the Minsk agreements on the Donbass. By the way, the Kremlin has not yet sent Zelensky an invitation to celebrate in Moscow the 75th anniversary of Victory in the Great Patriotic War (WWII).