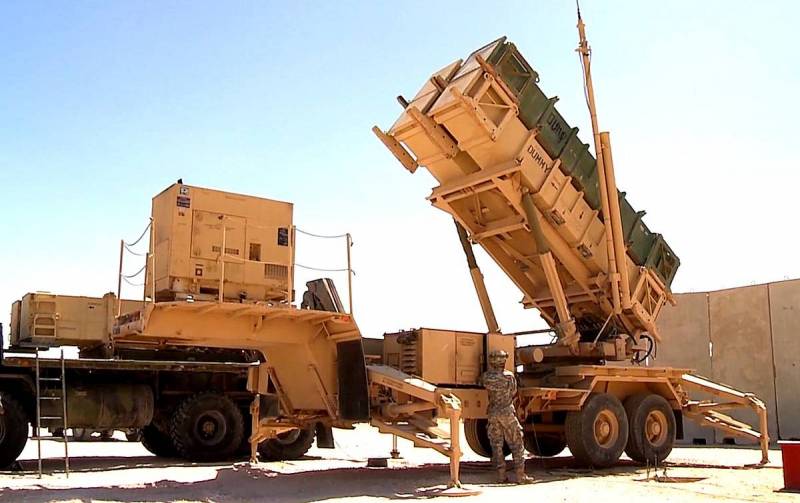 Events in the north of Syria are starting to develop in a negative way. The offensive of government forces was suspended, militants, with the support of the Turkish army, counter-broke through their defenses in the area of ​​Kminas and Nairab. The successes of the Syrians are largely due to air support from the Russian Aerospace Forces. Apparently, Ankara is ready to go far to knock this trump card out of the hands of Damascus and Moscow.
Russian planes fly to the SAR, usually at an altitude of 6 thousand meters, to avoid defeat from MANPADS, which the Turks handed out to terrorists, and operate at subsonic speeds. If modern air defense systems begin to be used against them, then our aviation will begin to suffer serious losses, and the offensive potential of the Allies will drop sharply. To this end, Ankara asked the United States for MIM-104 Patriot PAC-3 air defense systems. Are they able to turn the tide in Idlib in favor of Turkey, and what is the country's air defense system today?
Turkish air defense consists of anti-aircraft missile systems, anti-aircraft artillery, radio-technical troops, as well as fighter aircraft. It is believed that the component of the SAM is relatively weak.
The most serious of them can be recognized as an American-made MIM-14 Nike Hercules air defense system, hitting air targets at an altitude of up to 30 km and at a distance of up to 150 km. The Turks have 8 batteries and 72 stationary launchers. In the United States, this system was adopted in 1958 and removed in 1989. Its biggest disadvantage is the lack of mobility.
For air defense of the middle zone in Turkey, MIM-23 Hawk is also American-made, they have been in operation since 1960, undergoing modernization. The complexes are suitable for destroying aircraft and intercepting enemy missiles. In the USA, they were withdrawn from service in 2002, where they were replaced by the MIM-104 Patriot air defense system. The Turks have 8 batteries and 48 MIM-23 Hawk launchers.
Ankara uses the British Rapier air defense system to defend its air bases, which did not perform well during the Falkland War with Argentina, the Atilgan short-range systems (with Stinger missiles) and the FIM-92 Stinger MANPADS. It is worth mentioning about short-range and medium-range air defense systems HİSAR-O and HİSAR-A of our own Turkish production.
Well, the "cherry on the cake" will be the Russian S-400 air defense system, which Moscow so imprudently sold to Ankara, without waiting for the completion of the Syrian campaign. The Turks paid for the complexes, have already received and will soon put them into operation. Whether this weapon can be turned against ourselves is a difficult topic. Back in 2017, military expert Viktor Murakhovsky, in response to this direct question, stated:
There is always such a risk with any country.
Well, while President Erdogan spares our feelings and says nothing about the S-400. He asked the United States to place Patriot PAC-3 on the Syrian border of the air defense system. These complexes hit targets at an altitude of up to 20 km and at a distance of up to 100 km. Washington's response to this has not yet been received, but the White House openly sided with Ankara:
We strongly support Turkey in this difficult situation.
One has to wonder what will happen if the Turks get modern anti-aircraft systems? Will they really apply them on Russian aircraft or will they limit themselves to a demonstration of readiness?
Many domestic "network experts" and "professional commentators" are convinced that in the event of hostilities with Turkey, we will immediately begin to sink enemy frigates, shoot down aircraft and launch nuclear strikes against Ankara. For some reason, they forget that Turkey is a member of NATO. Yes, they refused to fight with the Russians for Turkish interests in Idlib, but at the same time they made it clear that nuclear weapons should be taken "in brackets" in case of conflict.
On the eve of the United States conducted demonstration exercises on the use of nuclear weapons in response to the Russian nuclear strike on a country in Europe. The U.S. Secretary of Defense commented as follows:
They attack us with low-power nuclear weapons. So during the exercises we simulated a response using nuclear weapons.
Perhaps, the Baltic region and Kaliningrad were meant, about which we are in detail
told earlier
. But it is possible that this was an allusion to the situation with Turkey, which is also part of the NATO bloc.