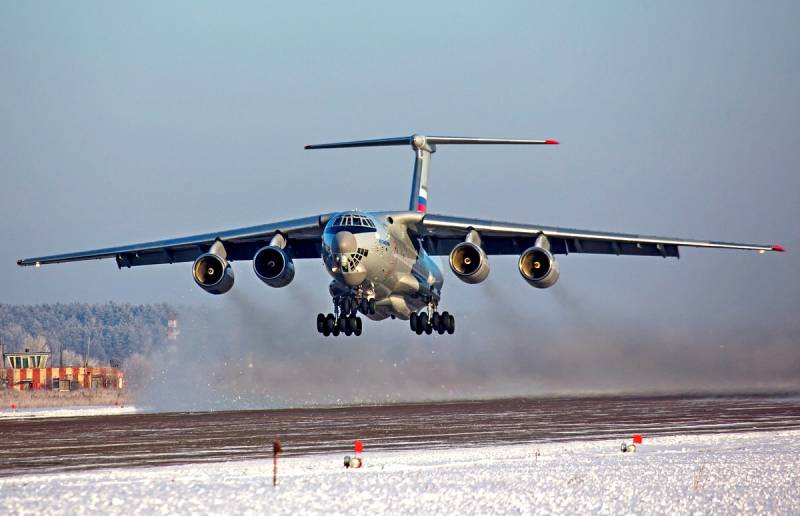 Just a few decades ago, the Soviet Union was one of the world leaders in aircraft manufacturing. After a quarter of a century, all that Russia is capable of in the production of civilian liners is "designers", mainly consisting of imported components. The military sector is also slightly better.
It is believed that with light combat aircraft everything is more or less decent with us, but if that were so, the UAC would hardly have thought of a merger of the Sukhoi Design Bureau and the Mikoyan Design Bureau, which we will discuss in detail
told earlier
. There are problems with large military aircraft.
IL-76MD-90A
This is a deep modernization of the Soviet military transport aircraft Il-76MD. It is equipped with more powerful and economical engines, a new wing and chassis, and updated avionics. The output was a real "workhorse" of the BTA, capable of transporting loads of up to 60 tons at a distance of up to 4000 kilometers. Also, with the help of IL-76MD-90A, it is possible to quickly deploy from 145 to 225 troops, depending on its modification.
When equipping the aircraft with medical equipment, it will allow transporting up to 114 wounded along with personnel, while carrying out intensive therapy of 20 seriously wounded. In addition, the IL-76MD-90A can be retrofitted to extinguish forest fires. Another important purpose of the upgraded board is to perform the function of refueling combat aircraft in the air. Those 15 cars that are available in the new geopolitical conditions are no longer enough.
Finally, DRLOiU airplanes are created on its basis, which are necessary for the detection and maintenance of targets, coordination of fighter aircraft, which are essentially air command posts. The Russian Air Force has only 15 outdated A-50 AWACS aircraft, and only 5 modernized A-50Us. The A-100 long-range radar detection and guidance aircraft, promised by 2017, has not yet been received by the Russian Air Force.
Amphibious aircraft Be-200
This is a unique Soviet development that continues to this day. Multipurpose aircraft can take off from both water and land. The "flying boat" is capable of performing a wide range of tasks: transporting loads of up to 5 tons and 43 passengers, extinguish forest fires, work as a lifeguard and protect water resources. Excellent characteristics make the amphibious aircraft interesting for the military, the Ministry of Emergencies and even civilian air carriers, including foreign ones. For example, the Be-200 may be in demand on the islands of Indonesia and other archipelagos.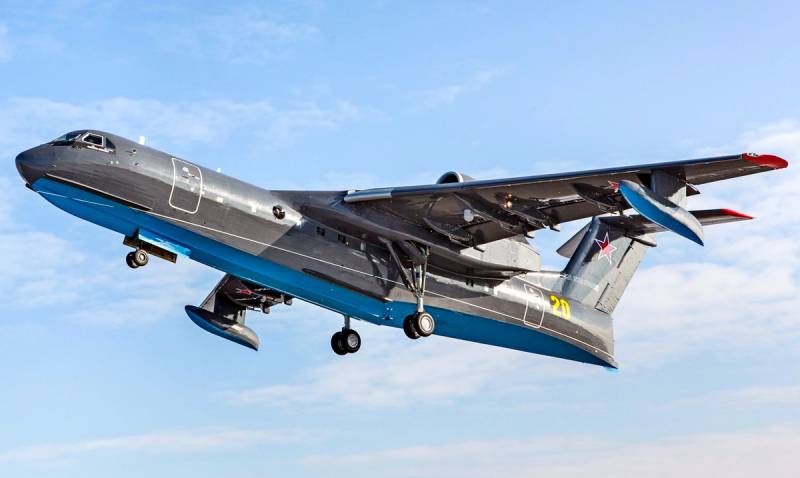 Unfortunately, the potential of large Russian aircraft remains unrealized due to the constant disruption of their production time. For example, back in 2013, the military signed a contract for the purchase of two Be-200ES and four Be-200PS. The total value amounted to 8,4 billion rubles. All aircraft were delivered by the end of 2016. But in 2017 it turned out that the manufacturer thwarted the execution of the contract, and the Ministry of Defense had to return funds through the court. Interestingly, only 6,73 billion came out to be sued. In 2018, the Ministry again turned to TANTK them. Beriev for three multi-purpose amphibious aircraft, the first one it was supposed to receive back in 2019. And again, a delay of one year, only now the Be-200ES made a test flight.
Similar problems existed with the production of IL-76MD-90A. Even 10 years ago, the military agreed to purchase a batch of 38 aircraft, and after that they increased the order to 50. However, later, in 2012, the appetites became more realistic - only 39 aircraft that Aviastar had to hand over before 2020. The amount of the contract amounted to 140 billion rubles. In reality, only 5 vehicles of them were received by the Ministry of Defense, and one of them was given to TANTK to them. Beriev for conversion into an A-100 AWACS aircraft. As we indicated above, this contract is still not executed.
What is the cause of chronic failure to fulfill contractual obligations?
Manufacturers claim that initially the cost of each aircraft was estimated incorrectly and turned out to be underestimated from the real one. Independent experts believe that the root of the problem is the inefficient organization of work at TANTK them. Beriev and in Aviastar. About something like this, we recently
wrote
and about our shipbuilding.
One would like to say: "There is no Beria on them."