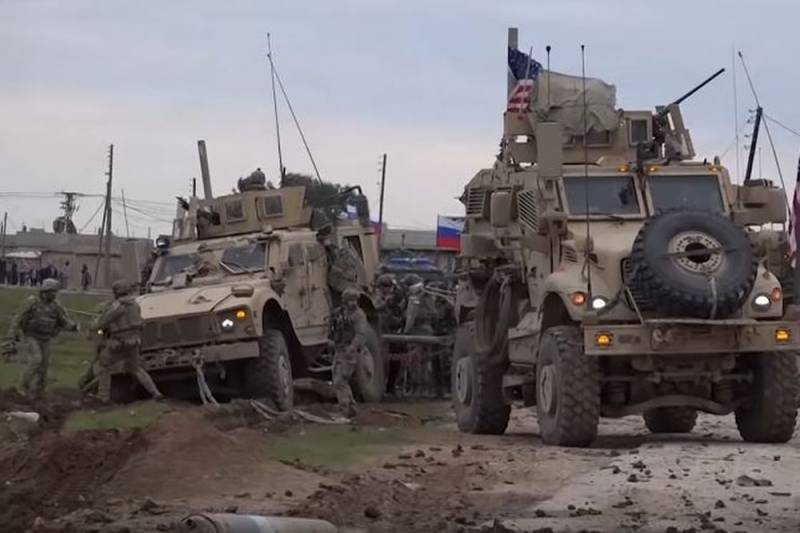 On February 12, 2020, the U.S. military opened fire on locals who blocked their path east of the city of Kamyshly (Hasek, Syria). As a result of this incident, a teenager died, another person was injured. Further exacerbation was prevented by the Russian military, who escorted the American convoy to the base point. And now, the head of the coordination center of the Russian Armed Forces in Syria, Major General Yakov Rezantsev told the details of what happened.
Rezantsev said that the incident occurred due to illegal actions by the American side. The US military for 3,5 km deviated from the planned route, as a result they were stopped by the Syrian Arab Army (SAA) at their checkpoint. The Syrians refused to let the Americans through Harbat Hamo, but the US military decided to go through this settlement anyway. Naturally, the locals were not enthusiastic about the visit of the Americans, because the US military disdained them.
One of the coalition's cars was stuck on the side of the road, and the second was out of order. After verbal bickering, indiscriminate shooting started
- said Rezantsev.
After this, a spontaneous rally was formed, which brought together about 1 thousand local residents. Initially, these were "women, children, old people, none of them had weapons." As a result, the Americans turned to the Russians with a request to help them leave this inhospitable village.
Rezantsev added that the Americans reacted adequately to the actions and recommendations of the Russians who arrived to stabilize the situation. According to Rezantsev, the US military was still lucky to get stuck at the entrance to the village, since it would be problematic to get them out of the village itself.
Let their leaders give an assessment of the actions of Americans, but we see the result of what such actions lead to.
- summed up Rezantsev.